Embracing the power of digital
Robert Yardy of MMT Digital, a company that redeveloped Allergan's corporate website, discusses the value to pharmaceutical companies of having a responsive, fully functional website…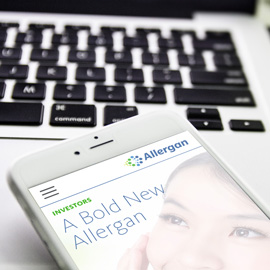 The pharmaceutical industry is a highly competitive industry subject to various regulations in the way organisations market and sell their products. However, these companies are also strongly customer-orientated and have embraced the use of digital marketing initiatives to ensure they continue to bring value to healthcare professionals, patients and other stakeholders, such as pharmacists, journalists and investors.
The challenge is developing these initiatives while still meeting the needs of and remaining relevant to global stakeholders. Successful companies need to determine the right marketing mix and find a balance between digital and traditional methods of marketing.
The value of a fully functional website
A key part of this approach is, of course, the website. Visitors to a company website should be guided through a personalised journey that not only meets their requirements — being able to easily find  information, etc. — but also helps the organisation convert a website visitor to a customer. There are a number of ways to do this, such as ensuring the website can be viewed properly on any number of devices, or that it includes online marketing functionality that can help the organisation personalise the experience.
MMT Digital worked with global, multi-billion dollar pharmaceutical company Allergan to redevelop its corporate site as the first step in a longer term project to develop country and product specific sites. In addition to updating the technology, MMT Digital was tasked with updating the aesthetics of the site, bringing it more in line with Allergan's brand image.
New look, new functionality
The overriding aim during redevelopment was to incorporate responsive web design into the site, add modern technologies to elevate the company's content offering to website visitors, and pay attention to content marketing using more video and image content in order to appeal to key user groups, such as investors.
The existing website sat on a content management system (CMS) that was no longer supported by Microsoft and was difficult to manage. As a result, MMT Digital created a fully-responsive web platform that delivered powerful localisation functionality, as well as integrations with a number of third-party platforms.
They subsequently developed 45+ local sites, using a site vocabulary to translate the content from the original site, including its calls to action. The manner in which MMT Digital set-up the backend of the website (with pre-styled widgets and web parts) ensures that content can be shared across sites.
With content personalisation and personalised journeys such an important part of the website experience, MMT Digital used Kentico Enterprise Marketing Solution (EMS) to add online marketing functionality to the site. This gives Allergan the ability to deliver specific, personalised information to each website visitor, perform A/B and multivariate testing, and use lead scoring and marketing automation to improve all digital customer touch points.
Personalisation, lead scoring and multivariate testing
The personalisation aspect is based on previous site behaviour, such as search terms and pages visited. In the same way, this data is used for marketing automation — that is, sending relevant content and information to visitors at the most opportune times, for example emailing a copy of a whitepaper related to a search term.
The testing functionality of the platform means that Allergan has the power to determine how similar pages are performing, with slight differences in content. For example, the company can run two pages at the same time but with slight variations in content. Web teams can then track the results and see which page is performing better.
The new design and platform also enables Allergan to use lead scoring. Essentially it allows the company to allocate points to certain activities — like placing an order or downloading a whitepaper. A league table is then created based on these points, which allows Allergan to easily identify its best customers and leads who are close to being converted, and market to them accordingly.
The results
After the launch of the responsive websites, Allergan experienced a 56% increase in page views per session, and a decrease of 46% in bounce rates. The company now has aesthetically pleasing and high performing sites that are able to cope with peaks and troughs in traffic, and deliver an excellent customer experience. 
Conclusion
The value of having a responsive, fully functional website should never be under estimated, regardless of industry sector. The information that can be gleaned from associated technologies, widgets and platforms can be used to great effect in making the customer experience more efficient and effective. As part of the wider marketing strategy, such a website can provide an organisation with a distinct competitive advantage.
Biography

Robert joined MMT Digital in 2012 having worked in marketing for global retail, travel and engineering companies. He has been pivotal in improving brand awareness which has led to a number of new high profile clients which in turn has resulted in the most successful financial year in the company's history.