From HIV to oncology: widening access through flexible IP
Jon Pender, GSK, discusses how a flexible and thoughtful approach to IP can help get medicines to the poorest and hardest-to-reach patients around the world…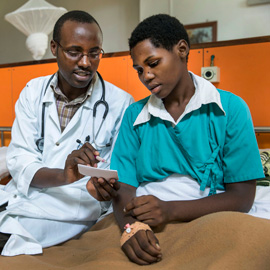 When it comes to discovering and developing the medicines of tomorrow, there is a fine line between success and failure. So intellectual property plays a vital role – providing the necessary incentives for scientists to persist in their lengthy and costly research and ultimately create urgently needed new treatments for people around the world.
From HIV and Hep C treatments, to powerful cancer and cardiovascular medicines, the IP-based research and development system has supported virtually all of the breakthroughs in medicines and vaccines over the last 50 years. IP also plays a part in the conversation about how we widen access to medicines for the most possible people. So we need to be thoughtful about how we deploy IP in such a way that it's delivering both innovation and access.
HIV is a good example of this approach in action. Voluntary licensing has helped open up access to lower cost generic HIV treatments for patients living in some of the poorest countries.  ViiV Healthcare – a global specialist HIV company majority owned by GSK, with Pfizer Inc. and Shionogi Limited as shareholders – struck an agreement with the Medicines Patent Pool for all its HIV medicines, including its latest. On April 25, ViiV expanded its agreement with the MPP so that it covers adults living in all lower middle-income countries – as well as least developed and low income markets, and sub-Saharan Africa.  More than 94% of adults living with HIV in developing countries are now covered through the licence agreement. The existing agreement ViiV has with the MPP for paediatric HIV medicines already covers 99% of all children living with HIV in the developing world.
ViiV's broadening of its agreement with the MPP is in step with GSK's graduated approach to patent protection. Our experience with HIV gives us confidence that increasing access, incentivising innovation appropriately and achieving business success can go hand in hand. In March this year, GSK unveiled a series of new measures designed to widen access to medicines to those patients living in the poorest countries.
One of these steps is looking at licensing oncology patents to facilitate generic production in poorer countries – expanding our approach from HIV to cancer. Global forecasts predict cancer rates in developing countries to soar over the next two decades as a result of changing lifestyles, placing an increasing burden on stretched health systems in these areas. To help respond to this rising threat, GSK outlined its intent to commit our future cancer products to patent pooling. This would enable generic versions of GSK's next-generation cancer medicines, currently in clinical development, to be made available in poorer and some middle-income countries once approved.
Other measures include that for the Least Developed Countries (LDCs) and low-income countries, GSK will not file patents for our medicines.  This simplified approach will help give clarity and confidence to generic companies seeking to manufacture generic versions of GSK medicines for those countries.
For most Lower Middle Income Countries (LMIC), GSK will file for patents where we think it is appropriate but for most we will seek to offer and agree licences to allow supplies of generic versions of our medicines for a decade. This offer will apply even for those countries that move out of LMIC status due to economic growth during this period, providing reassurance and commercial viability for generic companies.
Finally, we will work towards making information about our current and future patent portfolio for medicines freely available in order to reduce any uncertainties as to patent status that may exist. By having a one-stop point of information, people would be able to see exactly what patents we have where.
Taken together, these measures could help make an important contribution to widening access to medicines and support the vital ecosystem of intellectual property.  But they are not the whole story. Getting medicines to the poorest and hardest-to-reach patients is a multi-faceted challenge which includes better prevention and diagnostics; more frontline health workers; flexible pricing; and innovative financing mechanisms. Being thoughtful about IP is part and parcel of the holistic approach that should be taken by all stakeholders to ensure patients can access the healthcare they need, when they need it.
Related organisations
Related diseases & conditions