The changing dynamics of the life sciences landscape
The life sciences industry is dynamic and as we move towards 2020 and beyond, associated technologies will continue to converge. The forthcoming political, socio-economic and scientific era will throw up challenges, however, with these challenges will come great opportunities. As times change, pharmaceutical companies will need to employ innovative strategies for success.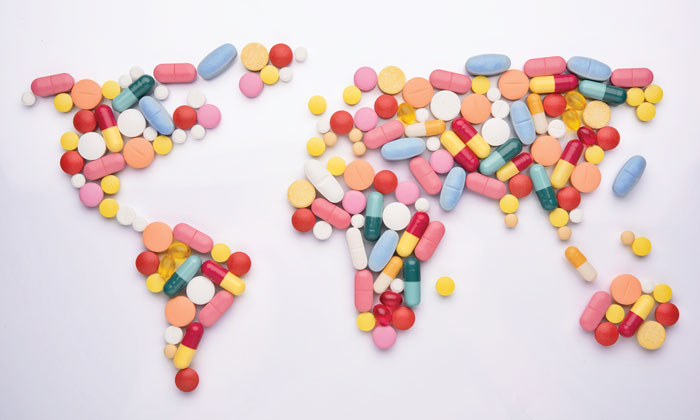 Importantly, patients will always be at the heart of the life sciences sector and as the gap between the world's rich and poor grows, governments will increasingly have to develop ways to partner with the industry in order to make medicinal products as widely available as possible. For pharma, close collaboration with advocacy groups, governments, regulators and investors will be vital for ensuring success.
That success is imminent: by 2020 the pharmaceutical market is anticipated to be worth more than $1.3 trillion, a figure that is arguably unsurprising given the rising incidence of diseases and ageing populations. One major trend is that the incidence of chronic conditions in the developing world is increasingly matching the patterns seen in the developed world. For example, in 2004 an estimated 639 million people living in developing countries suffered from hypertension. In 2025 the number is forecast to reach at least one billion – more than twice the projected rate of increase in that same population over the same timeframe. The outlook is similar when it comes to diabetes. The number of people living with this disease in emerging markets is expected to rise from 84 million in 1995 to 228 million in 2025, with India, the Middle East and South East Asia bearing the worst of the burden.
The United States spends over $10,000 per year on each patient with diabetes. If India's per capita expenditure rises to one-tenth of this level, the total cost of treating patients with this disease will be over $73.5 billion by 2025. Conversely, preventing 10% of the population from developing diabetes would save $8 billion a year.
Thus, governments will have to devote a much larger proportion of their healthcare expenditure to preventative measures and reward the development of vaccines and cures more highly than they do medicines associated with disease management. This shift presents many opportunities. Pharmaceutical companies will need to consider 'total healthcare packages', a business model that will fit the precision medicine concept of niche, customised medicines for defined patient populations. Indeed, industry's best hope of earning higher returns lies in the development of packages of products and services targeted at patients with specific disease subtypes. In order to capitalise on this the pharmaceutical industry needs to start by focusing on research into diseases rather than compounds.
Addressing poor innovation
Industry will not be in a strong position to capitalise on the opportunities provided by regulators unless it can change the way it operates. The core problem to date has been pharma's lack of innovation in developing effective new therapies for the world's unmet medical needs; even allowing for inflation, the pharma industry is investing twice as much in research and development as it was a decade ago to produce less than half of the new medicines it then produced. The Centre for Medicines Research International reports that, in 2004, more than 20% of the money ten of the largest pharmaceutical companies invested in R&D went on line extensions, rather than discovery and development projects. In smaller companies the percentage was over 40%.
Many external barriers and risks to innovation explain this trend. R&D and regulatory processes have become stiflingly complex as a result of political, legal and financial factors. Companies try to minimise their risks and can be extremely conservative, which can hinder innovation and creativity. As a result, they often outsource this risk to smaller companies focused on R&D as well as academia.
It seems clear that the current lifecycle of a medicine from R&D through to licensing and commercialisation will need to adapt. In the future, the linear model will give way to in silico, as well as risk-based in-life clinical trials, models and licensing, in collaboration with regulators and healthcare providers. Patients will also play a key role in the licensing of new medications and in the benefit-risk decisions, which regulators have traditionally borne alone. Risk-averse regulators will be supported in their assessments by patient advocacy groups, who will have a voice in the authorisation of medicines and defining the acceptable level of risk associated with a particular treatment.
Regulators can help to incentivise comp – anies to innovate by facilitating longer patent lives. Given the typical product lifecycle, it is estimated that an extra five years of patent life would increase the cash flows from a truly innovative medicine by approximately 50% depending on how vulnerable it is to generic erosion. However, in 2020 and beyond, the price any medicine can command will be based on its performance. The industry will almost certainly be expected to price such therapies on a scale, with cost hikes tied to the extension of the license and quota of patients for whom a treatment can be prescribed.
Meanwhile, as big pharma becomes bigger, so too does the power and influence they yield over particular disease areas. This requires governments and regulators to unite to negotiate fair commercial agreements with pharmaceutical companies.
Towards 'total healthcare'
Shire Pharmaceuticals has begun to develop total healthcare packages, which include home delivery, and partner with local 'healthcare at home' providers who can deliver and administer therapies as well as monitor patients in their own home. The company offers free diagnostic screening for conditions such as Gaucher, Fabry and MPSII, for which they manufacture orphan drug therapies, some of which are amongst the most expensive drugs in the world (for example, Elaprase costs $500,000 per annum). The firm has also acquired a number of companies that manufacture drug delivery devices such as self administration pens, with novel dual chamber cartridges that contain a lyophilisate powder and a reconstitution liquid to enable self administration of a drug formulation which would previously have required in-patient administration in a hospital setting.
Operationally, having new business models like this will impact on manufacture, distribu – tion, and sales and marketing systems. Traditional distribution channels will need to adapt and become a more sophisticated part of the total healthcare package, with direct-to-consumer channels offering greater access to treatment, which will need to be able to rapidly reconfigure as market conditions alter. While the supply chain expands to accommodate a wider range of medicines and markets, the sales and marketing process will become more concentrated and the emphasis will move towards new patient-finding initiatives for niche precision therapies.
In September 2006 the European Commission launched the 'Pharmaceutical Forum', which aims to share information on the relative effectiveness of comparable medicines, and pricing and reimbursement. With initiatives such as these, commercial success will depend on a company's ability to differentiate their medicines from those of rival companies, demonstrate value for money and contribute to the overall improvement of human health. This will also drive the movement towards total healthcare packages such as home delivery and disease management, as well as reward companies for the promotion of disease prevention through lifestyle and nutrition advice. In addition, the concept of disease management will drive the convergence of the information technology and medical device industries.
Evolving manufacturing operations
Pharma will have to learn how to manufacture a diverse range of products in an increasingly challenging environment, drawing on resources that are much more geographically scattered; and it will have to do so as manufacturing costs come under greater pressure. Contract manufacturers will play a greater role as strategic partners throughout the lifecycle of the product rather than simply service providers. The industry is already suffering from overcapacity, with utilisation rates of less than 50% at some plants. Many companies will therefore have to sell off their manufacturing assets or find new ways of exploiting them, as is currently happening on a global scale.
It is likely that further changes will be seen in manufacturing operations; with drug products being 'assembled to order' rather than 'made to forecast', using lean manufacturing techniques. New technologies will also play a much larger role. Simulation and data analysis tools will accelerate the transfer from development to full-scale manufacturing. Process tomography and high-frequency camera systems will provide a better understanding of flow patterns. Integrated sensors will continuously monitor the performance and quality parameters of each manufacturing process on a real-time basis, thereby ensuring the quality of the medicines that are made and generating the data needed to optimise production.
Opportunities with data
With the erosion of the conventional boundaries between self-care, primary care and secondary care, the needs of patients are shifting. Where treatment is migrating from the doctor to ancillary staff or selfcare, for example, patients will require more comprehensive information and advice about the medicines they take and greater surveillance will be required. This is being driven by the ability of companies to gather, store and interrogate patient data, although this does raise concerns about the patient privacy barrier. With the convergence of medical devices and new technologies, it is possible for companies to gather data using social media, wearable devices and adjustable dosing devices. This information can be used both to develop specific treatment plans and limit the requirement for healthcare professional intervention, but also allows companies to use the data for sales and marketing of their products. 
The use of this data can also be applied to in-life clinical trials, where the effectiveness of medications outside of a controlled clinical trial can be assessed on a larger scale, taking into account social and lifestyle factors. This is particularly relevant in the field of precision medicines and orphan drugs where patient populations are extremely limited, restricting the statistical validity of controlled clinical trials to determine the efficacy and safety of a drug. The availability of data and analytical tools may also be applied to in silico clinical trials, which may also expedite the trial process and help mitigate the risk of statistical bias when assessing restricted data sets.
About the author
Noel Gaule is a licensed QP/RP with 12 years' experience releasing a variety of dosage forms and has expertise in biopharmaceutical drug substance manufacture and sterile fill finish. In this time he has worked for Wyeth Biotech, Bristol Myers Squibb, MSD, and is currently Head of Biological Product Quality Leadership in Shire. He holds a BSc in Analytical Science from Dublin City University and an MSc in Industrial Pharmacy from the Royal College of Surgeons Ireland. He is currently undertaking an MBA with UCD Michael Smurfit Business School, specialising in Strategic Growth in the biopharmaceutical industry. He is a registered Honorary Lecturer in the Royal College of Surgeons Ireland, lecturing on the Undergraduate and Masters Pharmacy courses.
Issue
Related topics
Related people