Pursuing great science with MedImmune
As part of EPR's Women in Pharma series, Dr Jane Osbourn, Vice President of Research & Development, MedImmune, talks to Science Editor Dr Zara Kassam about the importance of breaking through self-imposed barriers…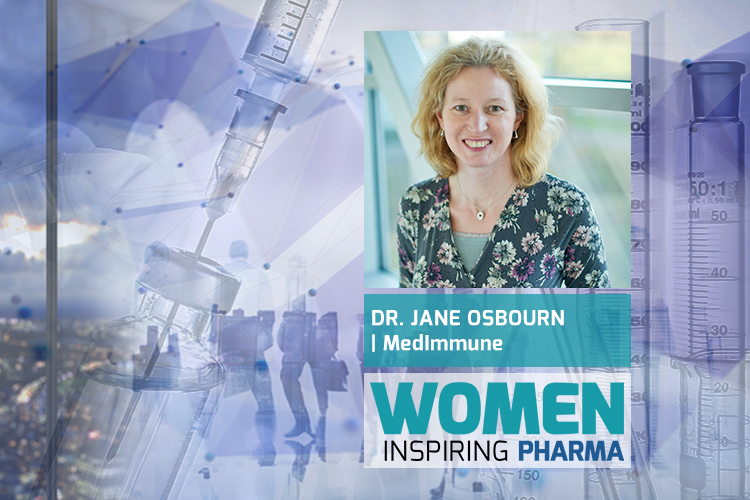 Tell me about your career? (A brief summary to date)
I joined Cambridge Antibody Technology (CAT) in 1993— a young biotech company focused on using molecular biology in new and exciting ways. I was part of the team that created a robust proprietary technology that could deliver high-quality antibody drug candidates.  This technology ultimately led to the development of the molecule that became Humira (adalimumab), an important anti-TNF antibody now marketed by AbbVie and which was the world's best-selling medicine from 2012-2014.
CAT continued to grow and I was pleased to seize the opportunities to progress, which arose as the company matured; always focussed on antibody and protein engineering, applied across a range of disease areas, and always with a view on the benefits we could bring to patients. Along the way, I worked alongside many inspiring scientists and was fortunate to contribute to a number of patents and to author several papers.  
In 2007, following the acquisition of CAT by AstraZeneca and its subsequent merger with MedImmune, I took on the leadership of MedImmune's facility in Cambridge UK and also now serve as MedImmune's vice president of research and development for biosuperiors.  In addition, I am Chair of the UK's BioIndustry Association, a director of Babraham Bioscience Technologies and a director of Cambridge Enterprise. All these organisations have a shared focus of supporting the initiation and scale-up of the next generation of biotechnology companies —something about which I am very passionate and hope to continue contributing learnings.
Prior to my time at CAT/MedImmune, I was a British Heart Foundation postdoctoral researcher at the Biochemistry and Medicine departments at the University of Cambridge. I hold a PhD in plant molecular virology from the John Innes Institute in Norwich and a first-class degree in Biochemistry from the University of Cambridge, in addition to a post-doctoral position at Rutgers University in New Jersey.
What does your current role entail?
I currently have a dual role, as both vice president of research and development for biosuperiors and also site leader at MedImmune's Cambridge campus. I enjoy the two aspects immensely. In biosuperiors research, I manage strong global science teams, including the team that developed MedImmune's first biparatopic antibody to reach the clinic; and in Cambridge, I provide local management and leadership to over 600 cross-functional scientists and professionals.
The biggest barriers I have experienced were actually self-imposed
As AstraZeneca relocates its global headquarters to Cambridge, I am also working with my MedImmune and AstraZeneca colleagues to ensure a seamless relocation to our new state-of-the-art facility, which is currently being built on the Cambridge Biomedical Campus. Working as part of a large global organisation is immensely stimulating and has brought with it a number of interesting opportunities, including presentations to a number of parliamentary sub-committees.
Do you think being a woman in the Pharma industry is a challenge?
First, I am proud to say that at MedImmune, we are striving to lead by example: about 50 percent of our employees are female and our leadership team is equally diverse. 
As an industry, we have come a long way, but we have more work to do to advance the role of women in pharma. I'm a scientist, so I have to look at the data: 75% of the biotechs have at least one woman in C-level management roles, which is very positive. Alarmingly though, 20% have no women in any leadership position; and 65% of biotechs have no women on their Boards of Directors.
 Are there any examples within your company in particular where women have been successful?
Certainly, in my experience at AstraZeneca and MedImmune, it's all about diversity of talent; attracting a range of different backgrounds, perspectives and ideas — that's what leads to innovation. 
Don't be afraid to take smart risks, but at the same time work smarter and harder
At MedImmune, we are also focused on creating a great place to work, and our culture enables this kind of diverse workforce to thrive. We host annual women's summits; maintain a strong leadership development program, and offer mentorship at all levels of the organisation for both women and men.
What have you experienced as barriers to success on your career path, and what advice would you give to women who come up against these same barriers?
From my personal experience I think the biggest barriers I have experienced were actually self-imposed; once I realised that the answer was to pursue the ideas I strongly believed in, I pursued them relentlessly.
What can women do to prepare themselves to reach the C-suite in the pharmaceutical and healthcare industries?
Great science is an entrepreneurial endeavour, and any great entrepreneur will tell you that when you're pursuing a new venture, risk and reward go hand in hand; development of a potentially lifesaving medicine is no different.
My advice is, don't sit around thinking about what won't work; rather, be willing to take smart risks in the pursuit of great science.  Not everything will work—that's drug development—but as I always tell my teams: we follow the science. 
Trust in the process and your skills. If you have the right qualifications, you will be in the right role. Don't be afraid to take smart risks, but at the same time work smarter and harder.
Currently, men outnumber women in science graduate degrees in the UK – how can we better address this imbalance to encourage more women into biology, chemistry, mathematics, and so on?
Importantly, we need to keep girls interested in science, technology and mathematics during their early years of study and nurture an excitement for following a career in these subjects. As part of this, we are committed to inspiring the scientists of the future – both girls and boys. We have an active STEM programme in the local community, and encourage our staff to support outreach activities in individual schools – at both junior and senior levels – and also wider community science education events.
Secondly, we have to continue working to keep women in the field, which can be done by supporting women at all stages of their careers who need time away from the workplace to raise a family. I personally have an open-door mentoring policy, where anyone regardless of level or experience can discuss any subject matter with me. I really believe that it is the duty of every person to guide and cultivate the skill set of the younger generation so they are poised to be the leaders of tomorrow. It is one of the areas that I am most passionate about and it is a key part of my role.
How could the Pharma industry benefit if more women were in higher roles?
The conversation needs to focus on diversity as a whole and in all forms – gender, culture, education, experience. Diversity of thought and experience is what allows collaboration and innovation to thrive.  I see this in many aspects of my work, and especially on the various boards and managerial teams, I contribute to. Hearing from different perspectives and creating an environment which encourages those perspectives to be aired is critical to success and encourages us to take bold decisions and be open to evolving our business.
As an industry, this diversity is what attracts the best talent. A recent Scrip survey, for example, found that 46% of women surveyed about gender diversity in the life science industry said they would not accept a job at a company that had all-male management teams and boards and where they were interviewed only by men.