Joining the dots at Janssen
As part of EPR's Women in Pharma series, Catherine Owen, President of Infectious Disease and Vaccines at Johnson & Johnson, talks to Science Editor Dr Zara Kassam about keeping up with the competition, innovation and grasping the breadth of business…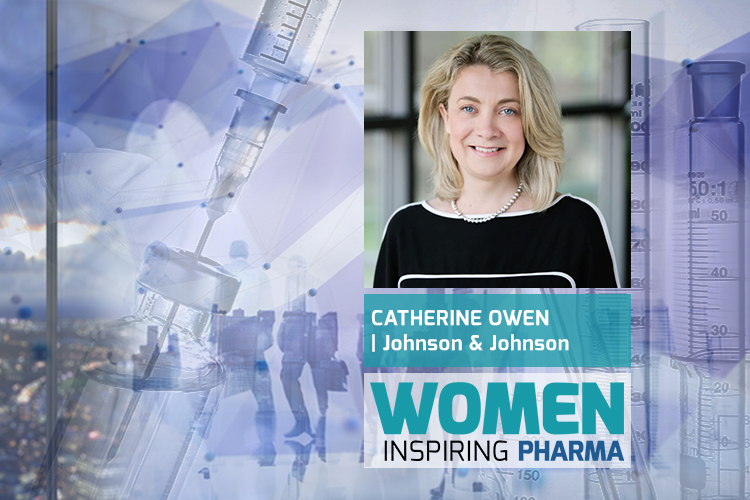 Tell me about your career? (A brief summary to date)
I started my career in the UK, at Astra Zeneca, having been recruited through their graduate Pharmacist scheme. I worked in manufacturing and analytics for 3 years before I decided I was much more interested in understanding the interactions between patients and doctors, and wanted to focus more on the commercial side of the industry. I talked to a lot of leaders to find out how to achieve this and learned I needed sales experience, and probably a postgraduate marketing qualification. Being focused, I jumped straight in, applied for a London selling role with Janssen (J&J) and attended Thames Valley University at night to get my Chartered Inst. Marketing degree. I quickly learned I loved the marketing side of the business and got my first job in product management, working on the launch of a new drug for epilepsy.
I spent the next ~9 yrs moving between sales management, marketing and other commercial functions across 6 different therapy areas. I was enjoying my career, but decided to challenge myself again to work in another country, and applied for our International development program, to work in the US. I was accepted and left London for New Jersey, relocating with my husband and young baby, to work in our global marketing function. After living and working in the US for a few years, we decided we really would like to stay for longer and so localised.
I have enjoyed the last 10+ yrs being able to move within the various functions and businesses of J&J, all of which are within 30 miles of each other in NJ. I have had the opportunity to work in our regional US pharma business and global marketing, as well as our medical devices sector and leading a start-up internal venture business. My last role was as VP Marketing for our Immunology business, the largest single business unit in J&J. I really enjoyed the biotech side of the industry where I was able to lead the development of our biosimilars strategy, as well as launching several new products in Crohn's disease and psoriasis. 
What does your current role entail?
Being a working parent in any industry is a challenge!
I am currently the President of our Infectious Diseases business in the US., I lead a large HIV portfolio, consisting of several hundred people in sales, marketing, training and medical, as well as being responsible for the representing the US business for our pipeline products in RSV, Flu and Hepatitis B. I represent my business on the board of Janssen Pharmaceuticals Inc., as one of 5 Presidents, and we are currently excited to have achieved the position of being the largest pharma company in the US. Additionally, I am responsible for several other North America teams, including Business Quality and Digital Innovation. Across J&J I sit on our Global Diversity and Inclusion Council.
Do you think being a woman in the Pharma industry is a challenge?
I think being a working parent in any industry is a challenge! I think women are well represented in pharma at all levels, especially in J&J, a company that has a long history of supporting women in leadership. J&J started the Women's Leadership Initiative (WLI) as an employee resource group over 20 years ago. It's a global movement within the company, supported by our senior leaders, with an emphasis on networking, mentoring and supporting women as they progress through their careers. We now have many other employee resource groups, to ensure we drive a strong focus on Diversity and Inclusion. As a working parent, I have been lucky to have both a supportive company and a supportive partner. J&J provides on-site daycare at all of its large facilities and this really was a blessing. Having my kids on site, being able to nurse them when they were babies, and being able to see them if I wanted to, at any time, was just fabulous.
 Are there any examples within your company in particular where women have been successful?
We are fortunate to have women leaders right up to our Executive committee, where two of our business leaders are recognised by FORTUNE magazine as being in the Top 50 most powerful women (Sandi Peterson leads Consumer and IT and Jennifer Taubert leads Janssen Americas) We also have Kathy Wengel who sits on our EC as our leader of Supply chain and Ashley McEvoy who leads our Visioncare business. Globally Jane Griffiths recently moved from being Company Group Chairman for Europe to being the global head of our newest pharma acquisition Actelion. We also have Ai hua Ong who is the Company Group Chair of Janssen in Asia. I feel very lucky to work for and with such an inspirational group of women! I think you have to recognise that our CEO Alex Gorsky, and our Worldwide chair of Pharma Joaquin Duato, have been amazingly supportive and driven ahead of the curve in developing strong women leaders.
What have you experienced as barriers to success on your career path, and what advice would you give to women who come up against these same barriers?
I have never felt true barriers, but I have felt a lack of confidence on occasion. I have felt like the next step seemed hard, or unachievable, but have always tried to focus on what's possible. I use mentors and sponsors for their advice and support and believe in actively developing a network of advisors. I think these should be both within your company, and outside. There is something to be said for keeping up with the competition and always ensuring that you feel valued in the roles you are in. I also keep up with a network of headhunters/recruiters. These colleagues can often give you much more objective advice on the value of your resume, and how you might be perceived in terms of the experiences you have.
When I faced personal barriers, either with childcare, or clashing schedules with my husband, I believe in investing in excellent nannies and nurturing a wide network of awesome friends.
What can women do to prepare themselves to reach the C-suite in the pharmaceutical and healthcare industries?
The c-suite demands thinking beyond your function, thinking as an enterprise leader, and ensuring that you can involve yourself in key discussions
Preparation for the c-suite involves taking career moves to drive a breadth of experiences. It's really important to move outside your core function, or move to enough different roles within your expertise that you can grasp the breadth of a business. The c-suite demands thinking beyond your function, thinking as an enterprise leader, and ensuring that you can involve yourself in key discussions. I have found that as I have moved between regions, countries and businesses, I am able to "join more dots". I can more easily ask good questions, challenge thinking and analyse a situation.
Looking more broadly at the industry do you think there is a glass ceiling for women in pharma and is it any worse than in other industries?
I think the opposite. I believe pharma is a trailblazer for women leaders, and we should use our voices and our influences to support and develop women in other industries.
Currently, men outnumber women in science graduate degrees in the UK – how can we better address this imbalance to encourage more women into biology, chemistry, mathematics, and so on?
Diversity and Inclusion at the boardroom level drive the right business discussions, more innovation and ultimately business results.
I went to an all-girls' school which did a lot for my confidence, and I didn't even have a thought that women couldn't be pharmacists, doctors, dentists or mathematicians! As I now have two daughters, I encourage them to develop their passions, and to learn from other successful STEM women, and their stories. Ultimately, women must step into the debate, join local school boards, speak at local events and encourage girls to think about careers in STEM. I believe we need to start early and work in our communities to show what is possible. J&J has just started a WISTEM2 program, where we work with schools, colleges and local communities to encourage girls in to develop a passion for science and technology learning.
 How could the Pharma industry benefit if more women were in higher roles?
All industries can benefit from a more balanced group of leaders. Diversity and Inclusion at the boardroom level drive the right business discussions, more innovation and ultimately business results. There are enough studies out now to show that if you have a more gender-balanced boardroom, you drive better business results. It's now a question of supporting the next generation of women leaders to get there. It's all about lifting up the next generation and showing them what's possible. I hope my daughters will not need to be asking these questions and can spend their time and brain power focused on solving some of the world's problems!
Related topics
Related organisations