Seeing is believing
KNF Lab has launched the SC950 wireless vacuum pump system, combining fast and precise vacuum regulation with a flow rate of up to 50 l/min…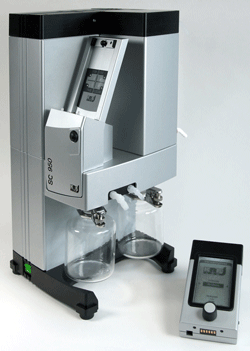 The SC 950 vacuum pump system
KNF Lab has launched the SC950 wireless vacuum pump system, combining fast and precise vacuum regulation with a flow rate of up to 50 l/min, plus the benefit of total remote control.
The SC950 builds on the success of the acclaimed SC920 wireless pump series, offering higher flow rates while retaining the same exceptional design and extremely quiet operation. A wireless touchscreen terminal provides full control of all the pump's operating modes and innovative functions, ensuring maximum flexibility and optimal use of laboratory space.
Like the SC920, the user-friendly design of the new SC950 vacuum pump system provides straightforward operation while allowing the pump to be stored in a remote or inaccessible location, saving valuable laboratory space without the need to compromise on control. The pump can also be controlled via a PC using Microsoft Windows®-based software.
The SC950 offers a range of walkaway operating modes, including chamber evacuation, constant pressure control and maintenance of sample vapour pressures, as well as allowing intelligent regulation of process pressures according to user-defined pressure curves. The pump's diaphragm stabilisation system ensures high suction speeds, even at low pressures, achieving an ultimate vacuum of 2 mbar.
To learn more about the SC950, visit www.knf.co.uk