Tecan launches Infinite® M1000 PRO with AlphaScreen® and AlphaLISA® technology
Infinite M1000 PRO is Tecan's latest generation high-end multimode microplate reader…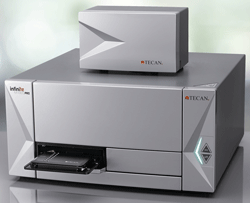 The new Infinite® M1000 PRO with injector module and NanoQuant Plate™
The Infinite M1000 PRO is Tecan's latest generation high-end multimode microplate reader, packed with application­focused functions and technical innovations to offer exceptional speed and sensitivity for academic, biotechnology and pharmaceutical research, including a module designed specifically for AlphaScreen and AlphaLISA technologies.
Based on Tecan's premium Quad4 Monochromators™, its patented technology allows fine tuneable and precise bandwidth adjustment in fluorescence, as well as offering Tecan's highly acclaimed absorbance, fluorescence and luminescence scanning capabilities.
The new AlphaScreen module includes dedicated filters for both AlphaScreen and AlphaLISA assays, as well as an ingenious temperature correction function that can compensate for sample temperature variations across the microplate. This novel system helps to accelerate analysis of these highly temperature-sensitive assays by eliminating the need for time-consuming equilibration of plates, increasing productivity without compromising on quality of results.
The instrument's class-leading format flexibility offers pre- and user-defined microplate formats from 6- to 1,536-wells, as well as compatibility with Tecan's patent pending NanoQuant Plate™ for low volume nucleic acid measurements. It also incorporates a range of application-specific functions – such as Optimal Read (OR) and double orbital shaking – designed to accelerate and simplify experimental workflows and analysis, providing a comprehensive solution for your research needs.
To learn more about the new Infinite M1000 PRO, visit www.tecan.com/infinitem1000pro
AlphaScreen and AlphaLISA are registered trademarks of PerkinElmer, USA.