Safe'n'Spray™, the smart electronic concept device with child-resistant and locking features, wins the 'Best Innovation In Drug Delivery Device' Award at Pharmapack 2020
A team of industry experts awarded Nemera's Safe'n'Spray with a prestigious Pharmapack Award for 'Best Innovation in Drug Delivery Device'.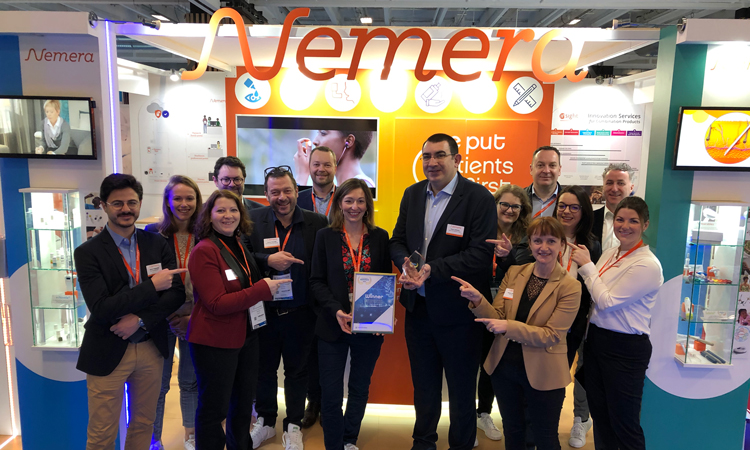 On 5 February, during the Pharmapack Awards Ceremony, Safe'n'Spray, Nemera's smart electronic concept device with child-resistant and locking features, was celebrated as the "Best Innovation in Drug Delivery Device".
Safe'n'Spray is an integrated device with reusable electronic locking unit and fingerprint identification, to monitor drug delivered and prevent patient from overdosing. Safe'n'Spray responds to specific needs of controlling the doses delivered to patients in a defined period of time, in order to prevent any overdosing.
Indeed, Safe'n'Spray offers maximum safety for patients while using multidose potent drug products, without any risk of overdosing compared to other systems (eg, unit-dose).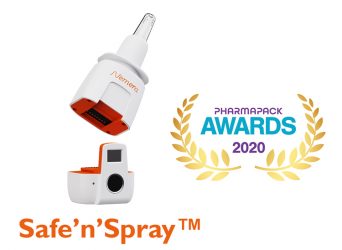 Moreover, Safe'n'Spray offers a unique possibility to reuse the "SAFE" electronic part once the "SPRAY" part with the drug is over (eco-friendly on both economic and ecologic sides).
The fingerprint sensor for patient unique identification acts as an easy and intuitive child-resistant feature, without the need for adding any secondary packaging with a Child resistant function.
Opposite to fully integrated devices, Safe'n'Spray does not change the manufacturing process of primary packaging on existing filling lines, as another module will deal with assembling Safe'n'Spray around primary packaging.
Last but not least, Safe'n'Spray is a connected device, linked with e-Nemera Cloud Solution, Nemera's cloud platform. It offers access to patients, healthcare professionals and pharma companies for various services: treatment management, statistical analysis, etc.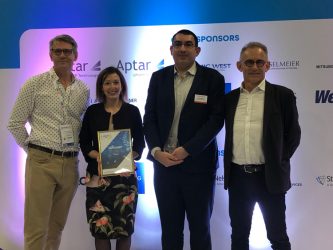 "We are very proud to receive this prestigious award." – said Marc Hämel, Nemera's CEO – "According to the World Health Organization, overdose deaths contribute to between roughly a third and a half of all drug-related deaths, which are attributable in most cases to opioids. With Safe'n'SprayTM, we offer a solution to prevent any overdosing thanks to the different electronic features. This product is also user-friendly, child-resistant and sustainable, with a reusable electronic locking unit. Receiving the Pharmapack 'Best Innovation in Drug Delivery Device' Award is a great recognition for all our teams working every day to improve patients' lives with innovative ideas."
Launched in 1997, the Pharmapack Awards celebrate the latest innovations from packaging companies within the drugs, medical devices, health products and veterinary drugs sectors.
Every day at Nemera, we work to improve the lives of millions of patients worldwide by designing, developing and manufacturing innovative drug delivery devices. Our vision as a team is to become the most patient-centric drug delivery device company in the industry. We partner closely with our customers to deliver innovative and high quality devices, to ensure that patients will receive the best product and service possible," said Hämel.
Safe'n'Spray at a glance:
Benefits for patients:
Prevent overdosing of potent drugs (e.g. breakthrough pain)
Intuitive and easy to use (fingerprint identification & simple display).
KEY DIFFERENTIATORS
Reusable electronic locking unit for cost-savings
Fingerprint for patient ID and as a smart child resistant function
Simple display (doses left, remaining time for the next dose, feedback in case of misuse)
Relevant data available through e-Nemera cloud system.
You can learn more about Safe'n'Spray here. 
Nemera in figures:
– 4 plants in Europe and the USA
– Insight Innovation Center with offices in Europe and the US.
Over:
– 2,100 employees
– 30,000 sq. meters of manufacturing clean rooms
– 150 engineers and experts in our Insight Innovation Center.