High-density microarray patch could provide alternative to syringe vaccine delivery
A clinical trial has shown that delivery of vaccines via a new high-density microarray patch (HD-MAP) induces a better immune response than needles or syringes.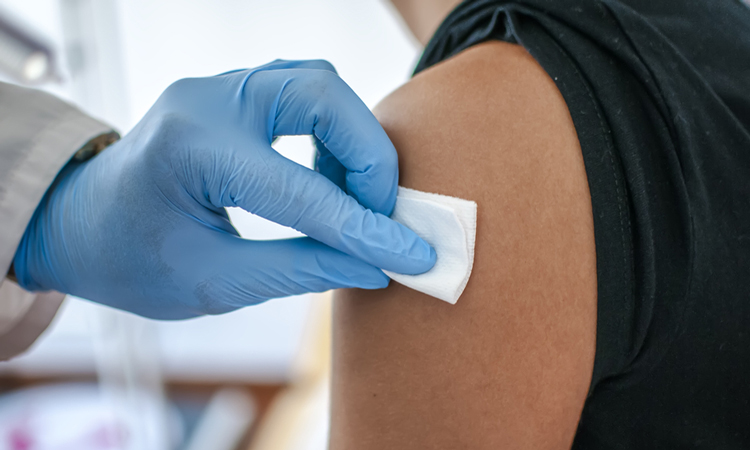 A novel high-density microarray patch (HD-MAP) has been developed by researchers, who say this form of drug delivery demonstrated a "significantly enhanced" immune response compared to vaccination by needle/syringe in a clinical study using an influenza vaccine. 
In addition to using the HD-MAP, a 2.5μg dose (one sixth of the standard dose) induced immune responses comparable to those induced by a standard dose of 15μg injected intramuscularly, report Vaxxas, the developers of the patch. At higher doses of 10 and 15μg, HD-MAP also produced high titers and faster onset kinetics than 15μg injected intramuscularly. The clinical study was a two-part, randomised, partially double-blind, placebo-controlled trial conducted at a single Australian clinical site. 
"We are extremely excited to publish these compelling clinical results showing the potential of our proprietary vaccination platform to deliver vaccines safely and effectively – including at lower doses – than conventional approaches," said David Hoey, President and Chief Executive Officer of Vaxxas. "Microarray patches have long been viewed as having game-changing potential by targeting the active immune cells in the skin. With the significant demonstrated immune responses in this study, Vaxxas' HD-MAP is the first-ever needle-free platform to clinically validate such a compelling immunological profile."
…higher doses of 10 and 15μg, HD-MAP also produced high titers and faster onset kinetics than 15μg injected intramuscularly"
The vaccine HD-MAP was stable when stored at 40°C (104°F) for at least 12 months, providing the potential for easy distribution without the cost and complexity of continuous refrigeration, highlights the company. Furthermore, a clinical study of self-administration of the HD-MAP is currently being undertaken. According to Vaxxas, the combination of these features could be extremely beneficial, subject to regulatory approval, in situations such as annual seasonal influenza vaccinations and pandemic response to prevent the need for populations to congregate to have a vaccine administered.
"With vaccine coated onto Vaxxas HD-MAPs shown to be stable for up to a year at 40°C, we can offer a truly differentiated platform with a global reach, particularly into low and middle income countries or in emergency use and pandemic situations," said Angus Forster, Chief Development and Operations Officer of Vaxxas and lead author of the study.
The HD-MAP is readily fabricated by injection moulding to produce a 10 x 10mm square with more than 3,000 microprojections that are gamma-irradiated before aseptic dry application of vaccine to the patch's tips. All elements of device design, as well as coating and QC, have been engineered to enable small, modular, aseptic lines to make millions of vaccine products per week, say the developers. 
The study was published in PLoS Medicine.