Using Th17 cells researchers make adoptive T-cell transfer therapy viable
Adoptive T-cell transfer therapy has had limited use due to the time involved in CD8+ T cell expansion, using a different type of T cell researchers were able to shorten this timeline, making the therapy more accessible.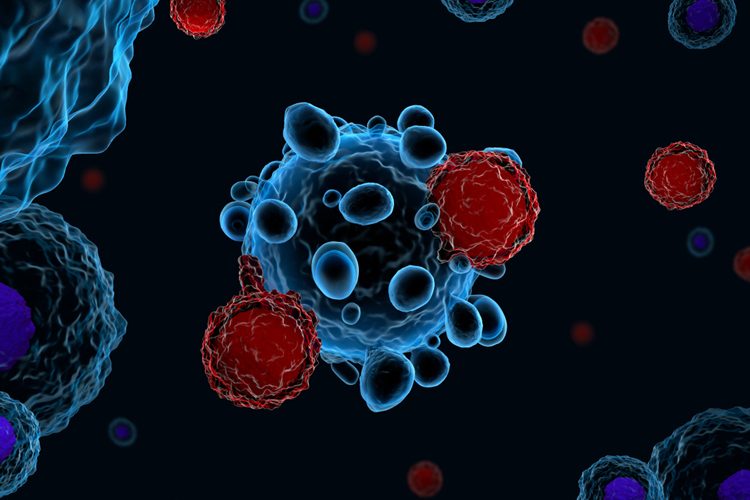 Researchers have demonstrated that Th17 cells, a potent CD4+ T-cell subset, can eradicate multiple different tumour types effectively and be produced quickly enough to make adoptive T-cell transfer therapy accessible to the general population.
Adoptive T-cell transfer therapy is a type of cancer immunotherapy in which a patient is given therapeutic T cells. It is only practiced in a handful of institutions worldwide, despite its potent effects, because the current methods to generate the necessary T cells can take months and many patients need a therapy more urgently.
In Cancer Research researchers reported a new approach to generating T cells for adoptive transfer. In their study they describe how they cut the time of bioproduction from months to less than a week by using a subset of CD4+ T cells, called Th17. This approach is new, as current protocols in clinic use CD8+ T cells, which have cytotoxic properties that allow them to kill cancer cells but also take months to produce enough for therapy ex vivo.
According to the team, the Th17 cells with the greatest effect were grown in cell culture for only four days before being infused into the host. Any shorter or longer reduced the efficacy of the treatment. The team said that while they could generate more Th17 cells over several weeks, more cells were either equally or less effective when compared to the number expanded in only four days. This finding means that adoptive T-cell transfer therapy could be administered to patients sooner, a discovery that has immediate clinical implications, said the researchers.
Hannah Knochelmann, a student in the Medical Scientist Training Program at the Medical University of South Carolina (MUSC),US, and researcher in Chrystal Paulos' laboratory, added: "very few Th17 cells were needed to eradicate multiple different types of tumours effectively. This new milestone could widen inclusion criteria to promote access to T-cell therapy for more patients with metastatic disease."
The researchers also worked to overcome another limitation of conventional T-cell therapy; that patients can relapse. They found that day-four Th17 cell therapy provided a long-lasting response able to prevent cancer recurrence. Interestingly, the team said that it was the cytokine interleukin-6 (IL-6) that was key to this effect, as it destabilised the regulatory T cells, empowering the Th17 cells to kill cancer cells. Engrafting Th17 cells induces IL-6 production, according to the paper.
Paulos said the researchers want this data to inspire physicians to think about immunotherapy differently: "This treatment has the potential to be very versatile. If the tumour can be targeted, meaning that a unique identifier for the tumour is known, this treatment can be effective. Thus, it can be used to treat patients with either liquid or solid tumours."
The research team said they are now collaborating with surgeons and medical oncologists to develop their findings into applicable treatments for patients. "Our vision is that T-cell products will be generated for patients within a few days, so these therapies can help all patients in need, especially those needing treatment quickly," Knochelmann said.