Zyesami™ shows promise in critical COVID-19 patients with respiratory failure
Preliminary data indicate that Zyesami reduces the length of hospital stay in critical COVID-19 patients treated with High Flow Nasal Cannula (HFNC) therapy or mechanical ventilation.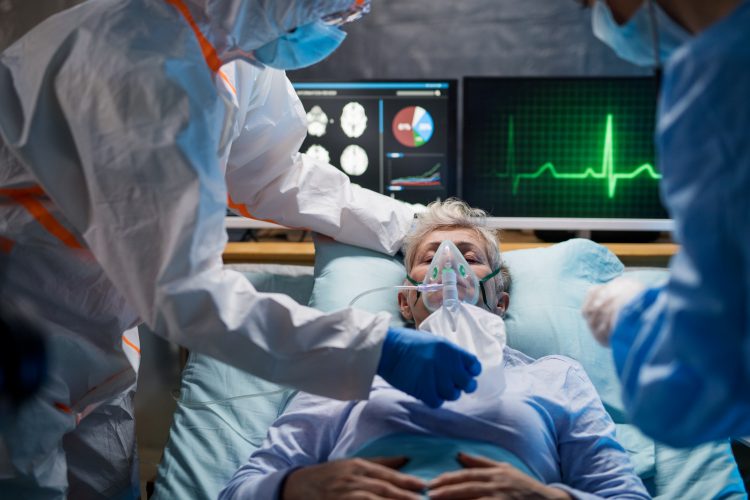 In a Phase IIb/III trial, critically ill COVID-19 patients with respiratory failure treated with Zyesami™ (aviptadil, previously RLF-100) plus maximal standard of care (SOC) were discharged sooner than those who received SOC and placebo. If authorised for use, Zyesami would be the first drug indicated specifically for COVID-19 patients who are critically ill with respiratory failure.
Dr Jonathan Javitt, Chief Executive Officer of NeuroRx, commented: "We are greatly encouraged by these preliminary findings and believe they are indicative of a biologic effect of aviptadil in hastening recovery from critical COVID-19.  We expect to discuss with the US Food and Drug Administration (FDA) and other regulatory authorities the submission of an Emergency Use Authorization (EUA) so that ZYESAMI can be available for treating this population that is at immediate risk of death and for which there is no approved therapy."
A total of 203 patients participated in the study; 136 were given Zyesami, while 67 received the SOC. A total of 138 patients (91 Zyesami, 47 SOC) survived through Day 28. Ninety-six patients (65 Zyesami, 31 SOC) were discharged from the hospital by Day 28. Data analysis is ongoing. The primary endpoint of the trial was the resolution of respiratory failure within 28 days after treatment started. The secondary endpoints were patient survival, time to intensive care unit discharge, time to hospital discharge, time to return to NIAID score of 6-8 and safety. 
The preliminary data includes 28 days of follow up, since patient survival has improved since the start of the pandemic, no differences in patient survival have been observed so far. Patients are now being followed through day 60 to assess this further. The study has also not identified an overall difference in recovery from respiratory failure. However, investigators are now working to confirm the timing of each case of recovery from medical records, once completed the study's investigators' committee will review each case prior to patient-level unblinding of this endpoint. Those data are expected within a few weeks. A blinded sub-study of radiographic improvement is also underway.
Zyesami did meet some of its secondary efficacy endpoints – in patients treated with High Flow Nasal Cannula (HFNC) therapy and mechanical ventilation, it showed an advantage of at least 40 percent in 15 of 16 comparisons. This difference includes at least a five-day median reduction in hospital stay. The largest difference observed was among those treated with HFNC who experienced a median of 11 fewer days in hospital (15 versus 26 for placebo plus SOC).
Dr Javitt added: "To our knowledge this is the first demonstration of clinically and statistically-significant benefit by any therapeutic agent in patients with COVID-19 respiratory failure in a randomised, double blind, prospective trial.  Other COVID-19 therapeutics have demonstrated clinical advantage in patients with non-critical COVID-19 (ordinal scale 4 and 5) but have not demonstrated benefit in those with Critical COVID-19 (ordinal scale 6 and 7). Steroids have demonstrated benefit in open label studies.  However, no randomised controlled trial to date has shown efficacy when patients are in respiratory failure and require High Flow Nasal Cannula, non-invasive ventilation or mechanical ventilation to maintain blood oxygenation. Zyesami, if authorised, would be the first drug for such critically ill patients.  Of note, the patients who received either drug or placebo in this trial also received all approved and standard of care treatments including remdesivir, anti-cytokine drugs, steroids and anticoagulants." 
No unexpected side effects have been identified. The most common side effects of Zyesami were mild to moderate diarrhea (seen in 30 percent of Zyesami-treated patients versus 1.5 percent of placebo-treated patients) and systemic hypotension (low blood pressure) seen in 31 Zyesami-treated patients versus 25 placebo patients. There were two deaths in the study related to hypotension, both of which occurred more than a week after treatment. One patient was in the Zyesami group, and the other was in the placebo group. All potentially serious adverse effects were investigated by a board-certified critical care physician together with site investigators and none was deemed drug-related.