Two new developments in kidney cancer treatments
Studies suggest there are better treatment options than sunitinib for kidney cancers; cabozantinib in metastatic papillary kidney cancer and lenvatinib/pembrolizumab for renal cell carcinoma.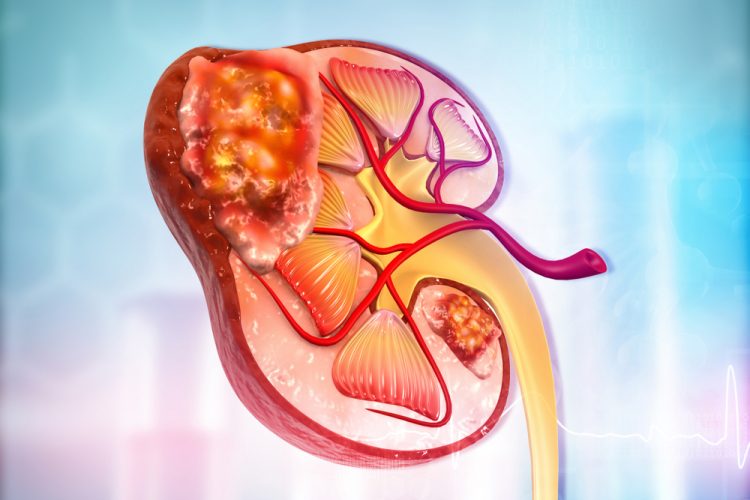 Cabozantinib shows promise in rare, untreatable subset of kidney cancer
New trial data shows that metastatic papillary kidney cancer (metastatic pRCC) treated with the small molecule inhibitor cabozantinib had a longer period of progression-free survival than those treated with the current standard of care (SOC), sunitinib, a receptor tyrosine inhibitor. The findings are expected to change medical practice.
Metastatic pRCC, a rare subtype of kidney cancer, currently has no effective treatments. In a new study, Dr Sumanta Pal, clinical professor of medical oncology at City of Hope, US, and an investigator at SWOG, a cancer clinical trials group funded by the National Cancer Institute (NCI), evaluated three treatments against current SOC.
A total of 147 patients were randomised to receive sunitinib or one of the three MET gene targeting drugs – cabozantinib, crizotinib and savolitinib. Progression-free survival (PFS) for sunitinib recipients was 5.6 months. Those who received savolitinib and crizotinib fared much worse overall than those receiving SOC; however, cabozantinib, which inhibits VEGF receptors and AXL in addition to MET, gave patients a median of 9.2 months before their cancer progressed. In addition, 23 percent of patients had a significant reduction in the size of their tumour with cabozantinib, compared to only four percent of SOC patients.
"The magnitude of the response was surprising," Pal said. "We still have a long way to go to help make patients' lives longer and better, but we do have a new standard treatment for these rare cancer patients. This result is a testament to SWOG and to City of Hope, who have the motivation and expertise needed to successfully conduct rare cancer clinical trials."
Building on this study, SWOG will lead the next trial in pRCC, one with a focus on the potential synergy between targeted treatments like cabozantinib and immune therapy. Pal will lead that study with SWOG investigator Dr Benjamin Maughan at Huntsman Cancer Institute at the University of Utah, US.
The Phase II trial results were published in The Lancet.
Combining immunotherapy and targeted drugs improves survival in advanced kidney cancer
In a Phase III trial, patients with renal cell carcinoma (RCC) who received a targeted drug combined with a checkpoint-blocker immunotherapy agent survived longer than patients treated with SOC sunitinib.
The authors of the study wrote that the combination of an immune checkpoint inhibitor and a targeted kinase inhibitor drug "is important in the first-line treatment of patients with advanced renal cell carcinoma". The senior author is Dr Toni Choueiri, director of the Lank Center for Genitourinary Oncology at Dana-Farber Cancer Institute, US.
In the trial, patients were randomised to three treatment groups: SOC, lenvatinib/pembrolizumab or lenvatinib/everolimus. Both groups treated with lenvatinib combinations had longer progression-free survival than those who received sunitinib. Patients treated with lenvatinib, an oral kinase inhibitor that targets proteins involved in the formation of blood vessels supplying a tumour, and pembrolizumab, a checkpoint inhibitor that helps the immune system attack cancer.
Lenvatinib/pembrolizumab achieved a median PFS of 23.9 months versus 14.7 months in the lenvatinib/everolimus arm and 9.2 in sunitinib group.
The 24-month overall survival rate was 79.2 percent with lenvatinib/pembrolizumab, 66.1 percent with lenvatinib/everolimus and 70.4 percent with sunitinib.
The confirmed objective response rate 71 percent with lenvatinib/pembrolizumab, 53.5 percent with lenvatinib/everolimus and 35.1 percent with sunitinib. The rate of complete responses was 16.1 percent in patients receiving lenvatinib/pembrolizumab, 9.8 percent in the lenvatinib plus everolimus group and 4.2 percent in the sunitinib group.
Almost all patients in the trial experienced some adverse events from treatment. The most frequent adverse events were diarrhoea and hypertension. These side effects led to treatment being halted in 37.2 percent of patients in the lenvatinib/pembrolizumab group and dose reduction of lenvatinib in 68.5 percent of patients. "Although the combination of lenvatinib and pembrolizumab was associated with some notable side effects, these adverse events are often adequately managed," the researchers said.
The results were published in The New England Journal of Medicine.