Leukine® significantly improves lung function in hospitalised COVID-19 patients
In the trial Leukine® (sargramostim, rhuGM-CSF) improved oxygenation in COVID-19 patients with acute respiratory failure by at least a third in over half of those treated.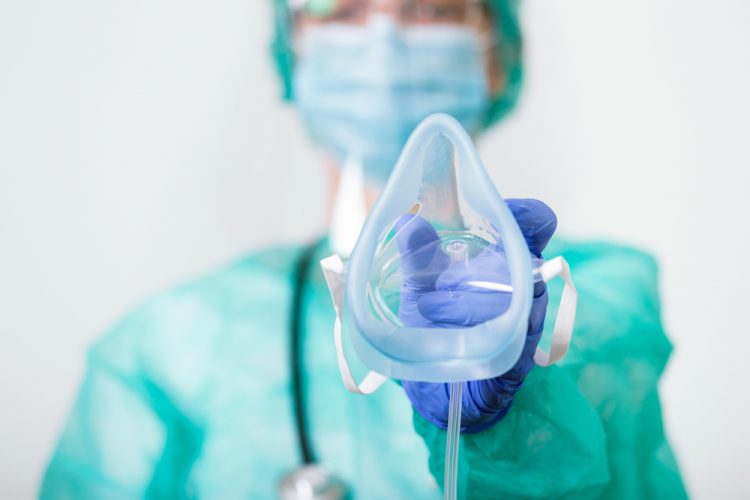 New trial data demonstrates inhaled Leukine® (sargramostim, yeast-derived recombinant human [rhuGM-CSF]) can significantly improve oxygenation in COVID-19 patients with acute hypoxic respiratory failure requiring supplemental oxygen. The trial was led by University Hospital Ghent and conducted at five hospitals in Belgium.
"The results from SARPAC represent a major advance for patients with acute hypoxic respiratory failure due to COVID-19 and validate sargramostim's critical role in the repair and healthy functioning of the lung," commented Dr Bart Lambrecht, Professor of Pulmonary Medicine at The University Hospital Ghent and Scientific Director of the Center for Inflammation Research at the Flanders Institute of Biotechnology (VIB) in Belgium, and principal investigator of the study. "The study confirms sargramostim's role in restoring the oxygen uptake function of the lung, while at the same time stimulating specific immune cells that fight against the virus."
In the prospective, randomised, open-label SARPAC (NCT04326920) study, 81 hospitalised patients with PCR-confirmed COVID-19 who were suffering from hypoxemia caused by lung dysfunction were randomised to receive either sargramostim plus standard of care (SOC) or SOC alone.
The study met the primary endpoint of improved oxygenation after five days of treatment with inhaled sargramostim and SOC. Improvement in oxygenation (as measured by alveolar-arterial oxygen gradient) of at least 33 percent from baseline was seen in 54 percent of patients in the sargramostim plus SOC arm versus 26 percent of patients on SOC. The investigators also noted improvements in other lung function measures with sargramostim.
Additional translational research accompanying SARPAC showed that sargramostim-treated patients had a statistically significant increase in activation of CD8+ anti-viral T cells specifically recognising the COVID-19 virus. According to Lambrecht, these CD8+ T cells are the same cells which are typically observed after vaccination and they also observed virus-specific CD4 helper cells being induced by sargramostim. The investigators also noted patients receiving the treatment showed stable or declining levels of key inflammation markers. Lambrecht added: "The biomarker studies will include the effect of sargramostim in lowering the levels of markers for lung damage and lung fibrosis that has been noted to be elevated in COVID-19 'long haulers'."
In the trial, the researchers said sargramostim was well tolerated, with adverse events generally similar across both arms. The major difference was in nose bleeds – on the inhaled sargramostim arm 20 percent experienced the symptom versus five percent of placebo patients; however, they were mostly mild (grade 1 and 2) and transient. Additionally, despite sargramostim being a cytokine, the researchers found no evidence of the treatment worsening or inducing cytokine storms, instead measured inflammatory markers indicated that it ameliorated them.
These findings are consistent with previous studies using intravenous sargramostim in Acute Respiratory Distress Syndrome (ARDS), for which it is already approved by the US Food and Drug Administration (FDA) and held by the US Government in the Strategic National Stockpile.
"Prior research in patients with acute respiratory distress syndrome has shown that sargramostim administered intravenously is safe and associated with a trend toward a reduction in mortality. The findings from SARPAC provide strong support for further clinical research to assess the safety and efficacy of inhaled sargramostim in the treatment of COVID-19," stated Dr Robert Paine, Chief of the Division of Pulmonary Medicine at the University of Utah, US. He added: "I believe that administering sargramostim by inhalation as soon as patients are being treated in an inpatient or outpatient setting due to COVID-19 could improve time to recovery and facilitate long-term healing."
SARPAC was conducted using inhaled sargramostim to target the lungs. The FDA has neither approved sargramostim for use in COVID-19, nor for inhaled administration.
Additional Studies
Alongside the SARPAC study, inhaled sargramostim is being assessed in the iLeukPulm study (NCT04411680), a 120 patient, 2:1 (sargramostim plus SOC versus SOC) randomised study conducted at 11 sites in the US.10 This study is similar in design to SARPAC, assessing the ability of inhaled sargramostim to improve oxygenation in patients hospitalised for COVID-19. Enrollment has concluded and results are expected in the second quarter of 2021.
Based on the potential for sargramostim to stimulate immune cells targeting the SARS-CoV-2 virus, irrespective of strain, PTx is also launching the SCOPE trial to evaluate sargramostim in 400 COVID-19 patients in an outpatient setting (NCT04707664).