Europe's largest biopharmaceutical company endorses CI SADE weight sorters
Actelion Pharmaceuticals Ltd, has endorsed CI SADE weight sorters…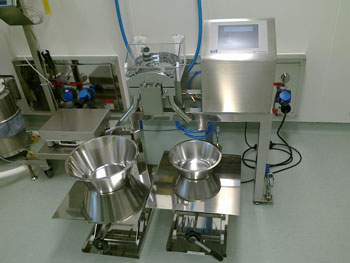 SP140 tablet/capsule weight sorter
CI Precision today announced that Europe's largest biopharmaceutical company, Actelion Pharmaceuticals Ltd, has endorsed its CI SADE weight sorters for weight checking batches of capsules.
Actelion is a biopharmaceutical company headquartered in Allschwil/Basel, Switzerland. Founded in 1997, the company focuses on the discovery, development and commercialization of innovative treatments to serve high unmet medical needs.
In April 2011 Actelion took delivery of a SADE SP140 tablet/capsule sorter from CI Precision for weight checking batches of capsules in their Formulation Development department; this unit joined the SADE SP100 previously installed in 2008. A variety of capsule sizes from 00 to size 5 are run through the units, a typical batch being between 50 grams up to a maximum of 3 kilograms.
A key benefit is that SADE SP units handle a wide range of product shapes and sizes without the need for parts to be exchanged. Plus the unit has been specifically designed for rapid set up and dismantling for quick and easy cleaning between batches.
The Formulation Development Manager at Actelion said: "We chose CI's SADE SP weight sorters because the equipment is small, efficient and easy to handle. CI Precision's installation and training, after-sales support and maintenance contract have all been very good."
He continued, "We would recommend the SADE SP sorters to other companies because they are easy to handle, clean and set up. In addition, the software is user friendly."
SADE SP tablet & capsule weight sorter scales are ideal for pharmaceutical Research & Development or Production facilities. They are designed for the accurate weight sorting of batches of tablets or capsules; each item is individually weighed to an accuracy of +/-1mg and sorted into accept and reject categories. In particular, the units ensure weight uniformity and 100% weight sorting of clinical trial or development batches during R&D.
CI Precision also offers the SP240 and SP440 floor standing weight sorters with bulk hoppers for larger batch sizes, with sorting rates up to 22,000 items per hour.
For more information about SADE SP tablet/capsule weight sorters from CI Precision, please call +44 (0)1722 424100, e-mail [email protected] or view www.ciprecision.com