Lynparza® improves invasive disease-free survival in high-risk early breast cancer trial
In the Phase III OlympiA trial, Lynparza® (olaparib) reduced the risk of cancer recurrences or death by 42 percent in patients with BRCA-mutated high-risk early breast cancer.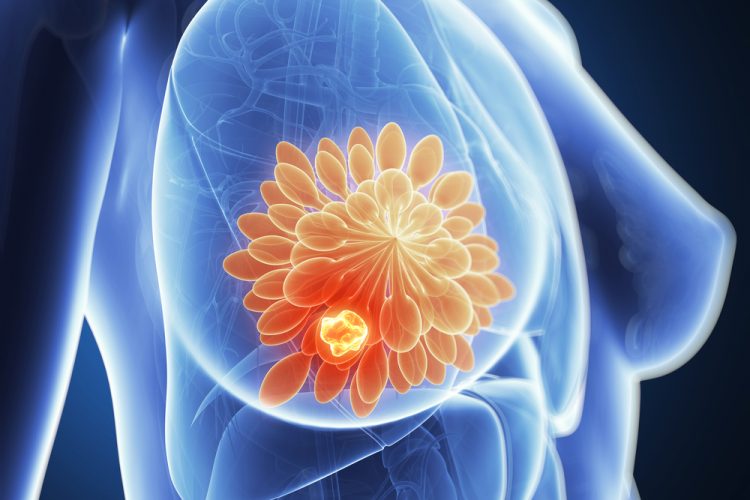 AstraZeneca and Merck & Co. (MSD outside the US and Canada) have revealed that the OlympiA Phase III trial showed Lynparza® (olaparib) demonstrated a statistically significant and clinically meaningful improvement in invasive disease-free survival (iDFS) versus placebo in the adjuvant treatment of patients with germline BRCA-mutated (gBRCAm) high-risk human epidermal growth factor receptor 2 (HER2)-negative early breast cancer.
An estimated 2.3 million people were diagnosed with breast cancer worldwide in 2020 and BRCA mutations are found in approximately five percent of breast cancer patients.
Andrew Tutt, chair of the OlympiA trial steering committee and professor of Oncology at The Institute of Cancer Research, London and Kings College London, commented: "We are thrilled that our global academic and industry partnership in OlympiA has been able to help identify a possible new treatment option for patients with early-stage breast cancer and who have inherited mutations in their BRCA1 or BRCA2 genes. Patients with early-stage breast cancer who have inherited BRCA mutations are typically diagnosed at a younger age compared to those without such a mutation. Olaparib has the potential to be used as a follow-on to all the standard initial breast cancer treatments to reduce the rate of life-threatening recurrence and cancer spread for many patients identified through genetic testing to have mutations in these genes."
Dave Fredrickson, Executive Vice President, Oncology Business Unit, AstraZeneca, added: "This is the first time that any medicine targeting a BRCA mutation has demonstrated the potential to change the course of early-stage breast cancer and offer hope for a cure. By providing a treatment which significantly reduces the risk of breast cancer returning in these high-risk patients, we hope Lynparza will set a new benchmark demonstrating sustained clinical benefit. We are working with regulatory authorities to bring Lynparza to these patients as quickly as possible."
The OlympiA trial was a randomised, double-blind, parallel group, placebo-controlled, multi-centre Phase III study which enrolled 1836 participants to assess the efficacy and safety of Lynparza versus placebo as adjuvant treatment in patients with gBRCA1/2 mutations and high risk HER2 negative primary breast cancer who have completed definitive local treatment and neoadjuvant or adjuvant chemotherapy. In the overall trial population, results showed Lynparza reduced the risk of invasive breast cancer recurrences, second cancers or death by 42 percent (based on a hazard ratio [HR] of 0.58). At three years, 85.9 percent of patients treated with Lynparza remained alive and free of invasive breast cancer and second cancers versus 77.1 percent on placebo.
Lynparza also demonstrated a statistically significant and clinically meaningful improvement in the key secondary endpoint of distant disease-free survival (DDFS) in the overall trial population. It reduced the risk of distant disease recurrence or death by 43 percent (based on an HR of 0.57). At the time of this initial data cut-off, fewer deaths had occurred in patients receiving Lynparza, but the difference in overall survival (OS) did not reach statistical significance. The trial will continue to assess OS as a secondary endpoint.
The safety and tolerability profile of Lynparza in this trial was in line with that observed in prior clinical trials. The most common adverse events (AEs) were nausea (57 percent), fatigue (40 percent), anaemia (24 percent) and vomiting (22 percent). Grade 3 or higher AEs were anaemia (nine percent), neutropenia (five percent), leukopenia (three percent), fatigue (two percent) and nausea (one percent). Approximately 10 percent of patients treated with Lynparza discontinued treatment early due to AEs.
OlympiA is a global collaborative Phase III trial co-ordinated by the Breast International Group (BIG) worldwide, in partnership with NRG Oncology, the US National Cancer Institute (NCI), Frontier Science & Technology Research Foundation (FSTRF), AstraZeneca and Merck. The trial is sponsored by NRG Oncology in the US and by AstraZeneca outside the US.
The results will be presented during the 2021 American Society of Clinical Oncology (ASCO) Annual Meeting on 6 June 2021 (abstract LBA#1) and were published in The New England Journal of Medicine.