Antibody combination reduces symptomatic COVID-19 risk by 77 percent
AstraZeneca's AZD7442 reduced the risk of developing symptomatic COVID-19 by 77 percent in PROVENT Phase III study.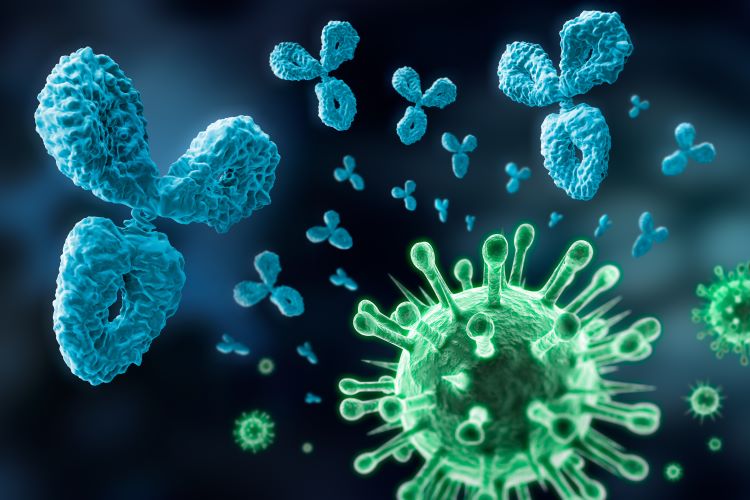 AstraZeneca reported that PROVENT Phase III pre-exposure prophylaxis trial showed AZD7442 achieved a statistically significant reduction in the incidence of symptomatic COVID-19, the trial's primary endpoint. AZD7442, a combination of two long-acting antibodies (LAAB), reduced the risk of developing symptomatic COVID-19 by 77 percent compared to placebo.
AZD7442 is a combination tixagevimab (AZD8895) and cilgavimab (AZD1061), two LAABs derived from B-cells donated by convalescent patients after infection with the SARS-CoV-2 virus, which causes COVID-19. The human monoclonal antibodies bind to distinct sites on the SARS-CoV-2 Spike (S) protein and were optimised by AstraZeneca with a half-life extension and reduced Fc receptor and complement C1q binding.
The half-life extension more than triples the durability of its action compared to conventional antibodies and could afford up to 12 months of protection from COVID-19 following a single administration, according to the company. The reduced Fc receptor binding aims to minimise the risk of antibody-dependent enhancement of disease – a phenomenon in which virus-specific antibodies promote, rather than inhibit, infection and/or disease.
PROVENT is a Phase III, randomised, double-blind, placebo-controlled, multi-centre trial assessing the safety and efficacy of a single 300mg dose of AZD7442 compared to placebo for the prevention of COVID-19. In total, 5,197 participants were randomised to receive a single intramuscular (IM) dose of either 300mg of AZD7442 or saline placebo, administered in two separate, sequential IM injections. The primary efficacy endpoint was the first case of any SARS-CoV-2 RT-PCR positive symptomatic illness occurring post dose prior to day 183. Subjects will continue to be followed for 15 months.
Participants were adults 18 years-old and over who would benefit from prevention with the LAAB, defined as having increased risk for inadequate response to active immunisation or having increased risk for SARS-CoV-2 infection. Participants at the time of screening were unvaccinated and had a negative point-of-care SARS-CoV-2 serology test.
Approximately 43 percent of participants were aged 60 years and over. Additionally, more than 75 percent had baseline co-morbidities and other characteristics that are associated with an increased risk for severe COVID-19 should they become infected, including those with immunosuppressive disease or taking immunosuppressive medications.
"We need additional approaches for individuals who are not adequately protected by COVID-19 vaccines," commented Mene Pangalos, Executive Vice President at BioPharmaceuticals R&D, AstraZeneca. "We are very encouraged by these efficacy and safety data in high-risk people, showing our long-acting antibody combination has the potential to protect from symptomatic and severe disease, alongside vaccines. We look forward to sharing further data from the AZD7442 Phase III clinical trial programme later this year."