MCAP for top bio/pharma companies reached $3.4 trillion in 2021
Market capitalisation (MCAP) for the top bio/pharma companies grew 24.9 percent in 2021, with BioNTech and Moderna entering the top 20 for the first time.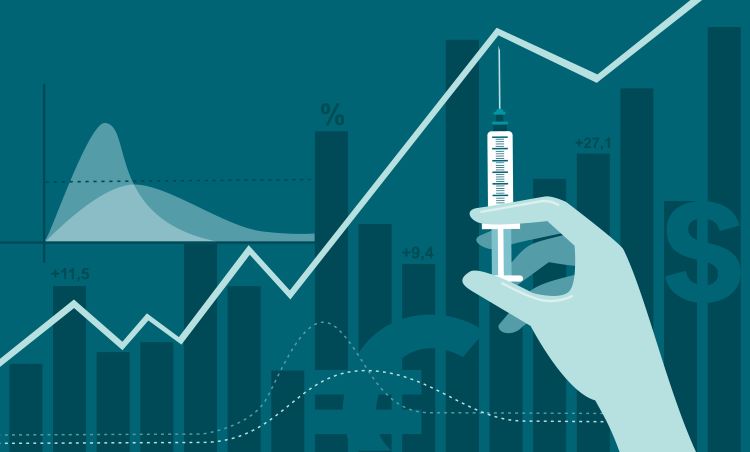 According to a new report, the top 20 global bio/pharma companies had a 24.9 percent growth in aggregate market capitalisation (MCAP) in 2021. MCAP grew from $2.8 trillion on 31 December 2020 to $3.4 trillion as of 31 December 2021.
GlobalData found 14 of the top players reported a positive year-on-year (YoY) MCAP growth with five companies – BioNTech (218.5 percent), Moderna (149.1 percent), Novo Nordisk (71.8 percent), Eli Lilly (63.6 percent) and Pfizer (61.9 percent) – all demonstrating more than 50 percent growth in their MCAP in 2021.
Mariam Shwea, Analyst of Business Fundamentals at GlobalData, noted that while traditional players, such as Johnson & Johnson and Roche, retained their top positions, the companies who successfully developed COVID-19 vaccines attained significant growth. Pfizer, for instance, went up two places to third and BioNTech and Moderna were both new entrants.
BioNTech's MCAP for the year grew to $62.5 billion due to the success of its COVID-19 vaccine marketed with Pfizer, Comirnaty. Shwea noted it ended in eighteenth position because "Comirnaty is currently the leading COVID-19 vaccine, with analyst consensus global forecast sales of $55.5 billion for 2021, according to GlobalData's Drugs Database Pharma Intelligence Center."
Moderna's share price grew from $104.5 on 31 December 2020 to $253.9 on 31 December 2021, largely due to its COVID-19 vaccine (Spikevax) sales. This was supported by a pipeline of late-stage programmes, including its mRNA-2416 and personalised mRNA-4157 vaccine, both in Phase II for oncology indications. GlobalData's Drugs Database Pharma Intelligence Center predicts sales of $14.2 billion for 2021.
Novo Nordisk reported a significant increase in its MCAP due to sales in its diabetes and obesity drugs, including Ozempic (semaglutide).
Shwea commented: "A driving factor for the increased MCAP revolves around LAI-287, Novo Nordisk's once-weekly basal insulin drug currently in Phase III for Type 1 and 2 diabetes, likely to be the first insulin therapy to achieve this. The company's Phase III semaglutide therapy, in development for non-alcoholic fatty liver disease and patients with heart failure and obesity, has seen success in proving to have uses across multiple indications in the cardiovascular and metabolic disorder space. Continued strong sales are expected for semaglutide, with the market keenly anticipating its approval for the aforementioned diseases."
Eli Lilly and Pfizer were the other top mentions, Eli Lilly's share price grew from 168.8 on 31 December 2020 to $276.2 on 31 December 2021. This was driven primarily by sales of its COVID-19 monoclonal antibody-based combination therapy, bamlanivimab and etesevimab, as well as its investigational antibody therapy with FDA breakthrough therapy designation for Alzheimer's disease, donanemab. Pfizer's share price similarly soared in 2021 driven by its COVID-19 franchise, including Paxlovid – its Phase III small molecule COVID-19 drug.
Regeneron also climbed the ladder due to COVID-19, going up three places to seventeenth as a result of its COVID-19 antibody combination therapy, REGEN-COV. Shwea noted however, "due to concerns of the diminished potency of REGEN-COV against the Omicron variant, its future success remains to be seen."