Lonza and Kodiak open custom-built bioconjugation facility
The newly opened facility will support the rapid launch and commercial manufacturing of KSI-301, Kodiak's investigational retinal disease therapeutic.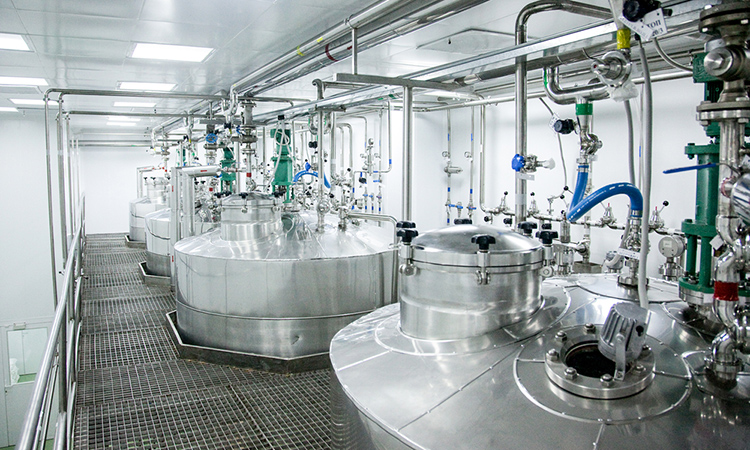 Lonza and Kodiak Sciences Inc have opened a new, custom-built, bioconjugation facility within Lonza's Ibex® Dedicate manufacturing complex in Visp, Switzerland. The facility will support the potential commercial manufacturing of Kodiak's lead therapeutic candidate KSI-301, an antibody biopolymer conjugate for retinal diseases.
Once fully operational, and dependent on KSI-301 being approved for commercial use, the facility is expected to have the capacity to supply over 10 million doses of KSI-301 annually. The collaboration and resulting facility has created 12 full-time positions at Kodiak Sciences in Visp and 70 positions at Lonza.
KSI-301 is based on Kodiak's core technology, the Antibody Biopolymer Conjugate (ABC) PlatformTM, and consists of a custom-built antibody inhibiting vascular endothelial growth factor (VEGF) conjugated with a phosphorylcholine biopolymer. VEGF is a potent cytokine known to contribute to the pathology of retinal vascular diseases.
Phase III clinical trials are currently ongoing in wet age-related macular degeneration (wet AMD), diabetic macular oedema (DME), retina vein occlusion (RVO) and non-proliferative diabetic retinopathy (NPDR). If successful, Kodiak intends to include data from these trials in a Biologics License Application (BLA) with the US Food and Drug Administration (FDA) and potentially other global regulatory agencies.
Lonza will support Kodiak in scaling up and securing supply chain as Kodiak progresses towards BLA readiness and potential commercial launch to meet growing market demand.
Dr Victor Perlroth, Chief Executive Officer, Kodiak, commented: "The grand opening of Ursus, our dedicated bioconjugate facility, is an important milestone in our journey to develop medicines for patients in need worldwide. We are thankful to have our trusted partner Lonza, a global leader with the needed expertise, systems and production capacity, navigate the challenges of manufacturing and supplying KSI-301, our lead product candidate. We are also very appreciative of the long-standing support from the local community of Visp and the canton of Valais."
Pierre-Alain Ruffieux, Chief Executive Officer, Lonza, added: "It is a privilege to work alongside Kodiak to develop this world-class suite for ophthalmic technologies through our innovative Ibex® Dedicate offering. Our relationship with Kodiak has evolved over the last seven years, from the development of the antibody, to incorporating conjugation and now opening this dedicated suite. This journey reflects how our two businesses are able to work as one team towards a single purpose."
The new dedicated bioconjugation facility will allow for rapid product launch and provide flexible commercial manufacturing capacity that can scale to meet market needs. Lonza will also utilise its global network of facilities, including Nansha, China, and Visp to produce Kodiak's biopolymer, as well as Portsmouth, US, to produce Kodiak's monoclonal antibody.