B&W Tek announces new enhancements to NanoRam handheld Raman spectrometer
B&W Tek, is pleased to announce new enhancements to its NanoRam® handheld Raman spectrometer…
B&W Tek, Inc., an advanced instrumentation company that delivers lab quality Raman spectroscopy solutions through user-friendly mobile platforms, is pleased to announce new enhancements to its NanoRam® handheld Raman spectrometer.
The NanoRam handheld Raman spectrometer is now faster, more efficient, and easier to use for a wider range of operators. New features include faster response on the user interface display, enhanced Wi-Fi and Ethernet operations, and faster data synchronization due to database optimization.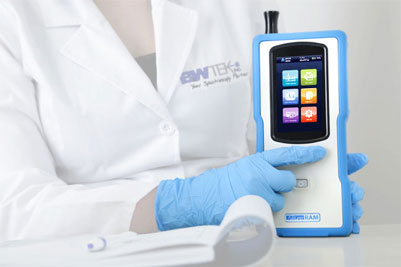 It also features new multilingual support, allowing users to input notes in a variety of languages.  B&W Tek has future plans to offer numerous language options for all aspects of the NanoRam user interface software.
Finally, the newest version of the NanoRam offers better battery operation efficiency through an improved power saving mode, allowing for longer use on one charge.
The NanoRam handheld Raman spectrometer provides non-destructive material identification, offers quantitative and chemometric analysis, and is user-friendly.  It eliminates quarantine times and areas, providing prompt return on investment.
For more information on the NanoRam handheld Raman spectrometer, visit: www.nanoram.com
Related topics
Related organisations