Sartorius opens new application center in Shanghai
Sartorius, a leading international laboratory and pharmaceutical equipment supplier, officially opened a new application center at its Shanghai office last week…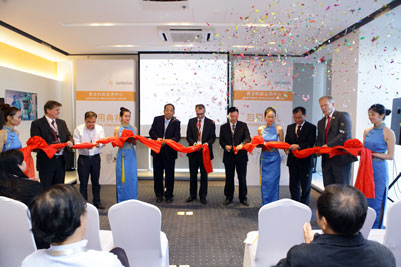 Besides being used for demonstration purposes, the new application center will serve as training facility for customers, distributors and staff
Sartorius, a leading international laboratory and pharmaceutical equipment supplier, officially opened a new application center at its Shanghai office last week. Among the guests, representatives from the Shanghai government, customers from the biopharmaceutical industry as well as business partners and the media attended the opening ceremony.
With a floor space of 240 square meters, or 2600 square feet, the new application center offers ample room for product demonstrations, trial runs and training sessions. At this center, customers from the biopharmaceutical industry can now test the latest Sartorius products for cell cultivation, media and buffer preparation, sterile filtration, cross-flow purification, membrane chromatography, virus clearance and aseptic processing. For laboratory customers, Sartorius showcases its entire range of lab instruments and consumables from balances, moisture analyzers, pipettes and water purification systems to filters and products for microbiological testing and quality control.
In his speech, Michael Melingo, member of the Sartorius Group Executive Committee and in charge of marketing, sales and services of Sartorius' lab business, underlined the importance of Shanghai as a strategic and geographical hub for Sartorius in Asia. "Located close to our customers' R&D centers in Shanghai and other biotech hotspots like Seoul, Tokyo and Singapore, our application center is the place to be for top scientists to talk about the latest industrial and technological trends." With the substantial investment in this new application center, Sartorius has further extended its footprint in Asia.
Dr. Jörg Lindenblatt, the Senior Vice President of Sales Asia/Pacific for Bioprocess Solutions, emphasized the practical approach of the application center. "Our application center is not just a showroom for our extensive range of lab and bioprocess products. We invite our customers to gain hands-on experience with our technologies during training and demonstration. By doing this, we can demonstrate the benefits of the high degree of seamless integration of the newest state-of-theart technology for biotech manufacturing." Besides being used for demonstration purposes, the new application center will serve as training facility for customers, distributors and staff.