HORIBA Scientific launches Swift v.2 for ultra fast, high definition confocal raman imaging
HORIBA Scientific, global leader in Raman and optical spectroscopy systems for over 50 years, announces the release of their newest SWIFT v2 ultra fast confocal Raman imaging module…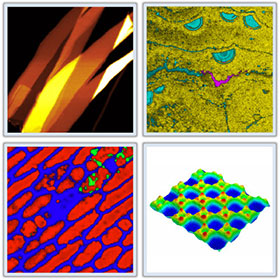 Latest Module Improves Speed of Raman Imaging by 4-5 Times
EDISON, NJ February 25th, 2015 – HORIBA Scientific, global leader in Raman and optical spectroscopy systems for over 50 years, announces the release of their newest SWIFT v2 ultra fast confocal Raman imaging module.
Available for the XploRATM PLUS and LabRAM Evolution, the new SWIFT v2 module greatly enhances the ability to obtain fast and detailed confocal Raman images with the click of a button. The module offers a 4x to 5x improvement in speed on even the fastest of Raman images, while maintaining the class leading confocal performance and sensitivity.
"The new SWIFT v2 module represents a major breakthrough in performance in the Raman imaging market. It makes Raman imaging a realistic alternative to optical imaging techniques and can be used to survey 3-D sample structure and surface features," said Dr. Adrian Knowles, global Raman product manager for HORIBA Scientific. "Its technology and speed will enable the user to focus on detail and the chemical information within an image, and is not constrained by any compromise in sensitivity or confocal performance which has previously challenged Raman imaging."
HORIBA Scientific's new SWIFT v2 module offers a powerful yet cost effective route to employing the full power of Raman imaging in the Laboratory. Obtaining micron scale images on samples from nanomaterials, polymers, and geological sections through to pharmaceutical tablets and biological cells become a much more routine and accessible capability.
SWIFT v2 is currently available.  For more information, please click here.
About HORIBA Scientific
HORIBA Scientific, part of HORIBA Instruments, Inc., headquartered in the United States, provides an extensive array of instruments and solutions for applications across a broad range of scientific R&D and QC measurements. HORIBA Scientific is a world leader in OEM Spectroscopy, elemental analysis, fluorescence (including the PTI brand), forensics, GDS, ICP, particle characterization, Raman, spectroscopic ellipsometry, sulphur-in-oil, water quality and XRF. Our instruments are found in universities and industries around the world. Proven quality and trusted performance have established widespread confidence in the HORIBA Brand.
Building on a long tradition of pursuing innovative technology to advance scientific efforts, we have acquired renowned companies such as Société Générale d'Optique (1969), SPEX (1988), Dilor (1995), SOFIE (1996), Jobin Yvon (1997), IBH (2003), GenOptics (2009), and Photon Technology International (2014).
The HORIBA Group of worldwide companies, part of HORIBA, Ltd. headquartered in Kyoto, Japan, provides an extensive array of instruments and systems for applications ranging from automotive R&D, process and environmental monitoring, in-vitro medical diagnostics, semiconductor manufacturing and metrology, to a broad range of scientific R&D and QC measurements.
Related topics
Related organisations