Supplemental New Drug Application for ibrutinib submitted to FDA
Posted: 14 September 2015 |
A supplemental New Drug Application (sNDA) for Imbruvica (ibrutinib) has been submitted to the US Food and Drug Administration (FDA) for front-line use in patients with chronic lymphocytic leukaemia (CLL).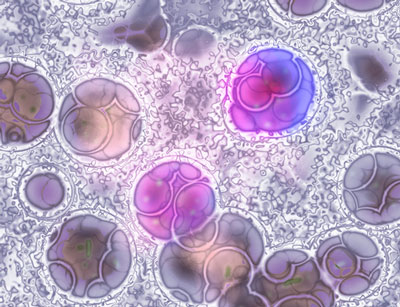 The filing is based on data from the Phase 3 RESONATE-2 (PCYC-1115) trial assessing the use of ibrutinib versus chlorambucil in patients with treatment-naive CLL or small lymphocytic lymphoma (SLL) aged 65 years or older.
"Treatment-naive patients with this disease typically relapse or become refractory to standard chemotherapy, so new options are greatly needed to potentially change the CLL/SLL treatment paradigm," said Jan Burger, M.D., Ph.D., Associate Professor, Department of Leukaemia, Division of Cancer Medicine, The University of Texas MD Anderson Cancer Centre, Houston, TX and study lead investigator.
Ibrutinib was shown to be superior to chlorambucil in terms of progression-free survival
Patients in the RESONATE-2 trial were randomised to receive either ibrutinib or chlorambucil. At the time of the final analysis, the primary endpoint was met, with ibrutinib shown to be superior to chlorambucil in terms of progression-free survival (PFS). In addition, ibrutinib demonstrated significant improvements in key secondary efficacy endpoints, including overall survival (OS), overall response rate (ORR) and in hematologic function.
"This submission to expand the use of Imbruvica for patients with treatment-naive CLL is very significant, as this patient population represents the largest group of patients with CLL," said Peter F. Lebowitz, M.D., Ph.D., Global Oncology Head, Janssen Research & Development. "The submission highlights our commitment to developing medicines that truly transform treatment paradigms and patient outcomes, as well as our commitment to further develop Imbruvica in hematologic malignancies."
"This submission highlights the expanded potential and strong value of Imbruvica as a treatment for CLL," said Erik von Borcke, President of Pharmacyclics. "We are pleased treatment-naive patients may soon have an alternative to traditional cytotoxic chemotherapy."
Ibrutinib is jointly developed and commercialised by Janssen and Pharmacyclics. The companies are continuing an extensive clinical development programme for ibrutinib, including Phase 3 study commitments in multiple patient populations.
Related topics
Related drugs