Sigma Life Science and SwitchGear Genomics to Co-develop Simplified Novel microRNA Target Validation System
These ready-to-use reporter vectors are expected to simplify miRNA target validation…
These ready-to-use reporter vectors are expected to simplify miRNA target validation...
Sigma Life Science, the innovative biological products and services research business of Sigma-Aldrich® (Nasdaq:SIAL), and SwitchGear Genomics, Inc. today announced a joint project to develop and distribute a novel microRNA (miRNA) target reporter system. Combining SwitchGear Genomics' expertise with Sigma's versatile lentiviral technology, these ready-to-use reporter vectors are expected to simplify miRNA target validation, enabling researchers to investigate gene regulation in a variety of biological pathways.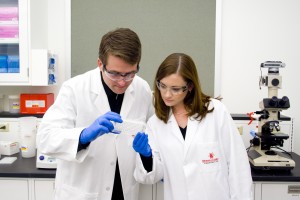 "This is a very exciting joint effort," said Dr Nathan Trinklein, CEO and co-founder of SwitchGear Genomics. "We believe that combining unique technologies from SwitchGear Genomics with Sigma's industry-leading lentiviral technology and production capabilities will enable researchers to study miRNA function and gene regulation on an unprecedented scale."
The genome-wide collection of reporter vectors is expected to provide highly effective miRNA target validation without the need for time-consuming and laborious reporter cloning. Use of Sigma's patented lentiviral technology is expected to allow the highly regarded SwitchGear GoClone™ miRNA target sets to be used in a broad range of cell types, including primary cells and stem cells.
"We are excited to partner with SwitchGear Genomics on the co-development of this unique vector system," added Dr. Supriya Shivakumar, Global Commercial Marketing Manager for Functional Genomics at Sigma Life Science. "By offering this novel reporter technology in a lentiviral format we are addressing specific customer needs and we believe we are helping to further fundamental understanding of gene regulation."
Cautionary statement: The foregoing release contains forward-looking statements that can be identified by terminology such as "are expected to," "we believe," "is expected to," or similar expressions, or by expressed or implied discussions regarding potential future revenues from products derived therefrom. You should not place undue reliance on these statements. Such forward-looking statements reflect the current views of management regarding future events, and involve known and unknown risks, uncertainties and other factors that may cause actual results to be materially different from any future results, performance or achievements expressed or implied by such statements. There can be no guarantee that the miRNA Target Validation System will continue to meet the demands of the marketplace. Nor can there be any guarantee that any of the products from the miRNA Target Validation System will achieve any particular levels of revenue in the future. In particular, management's expectations regarding the miRNA Target Validation System could be affected by, among other things, unexpected regulatory actions or delays or government regulation generally; the Company's ability to obtain or maintain patent or other proprietary intellectual property protection; competition in general; government, industry and general public pricing pressures; the impact that the foregoing factors could have on the values attributed to the Company's assets and liabilities as recorded in its consolidated balance sheet, and other risks and factors referred to in Sigma-Aldrich's current Form 10-K on file with the US Securities and Exchange Commission. Should one or more of these risks or uncertainties materialize, or should underlying assumptions prove incorrect, actual results may vary materially from those anticipated, believed, estimated or expected. Sigma-Aldrich is providing the information in this press release as of this date and does not undertake any obligation to update any forward-looking statements contained in this press release as a result of new information, future events or otherwise.
Related topics
Related organisations
Related people