Record attendance for Cambridge Healthtech Institute's Seventh Annual PEGS Europe Summit
Posted: 16 October 2015 |
Largest European Event for Biologics Returns to Lisbon from 2-6 November…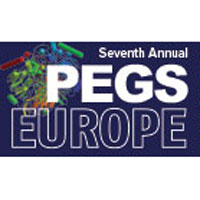 More than 700 attendees will participate in Cambridge Healthtech Institute's Seventh Annual PEGS Europe Summit in Lisbon, Portugal from 2-6 November. PEGS Europe is the leading European event covering all aspects of antibody engineering, biologics development, bioproduction, protein expression, and formulation, and will feature 175 technical presentations, 100+ scientific posters, 45+ sponsors & exhibitors, dedicated networking opportunities, exclusive poster viewing hours, interactive roundtables, breakout and panel discussions, and nine hands-on short courses.
"PEGS Europe is a favorite of mine as the choice of tracks, the variety of short courses, the excellent networking, the huge number of posters, and the large exhibition provide the event with an enormous buzz," stated Nicole Lyscom, Senior Conference Director at CHI. "I am sure you will enjoy it and learn a lot."
This year's conference will offer five plenary keynote presentations, including Dr. Lorenz Mayr from AstraZeneca, Dr. Paul W.H.I. Parren from Genmab, Dr. Andreas Plückthun from the University of Zurich, Dr. Tristan Vaughan from MedImmune, and Dr. Gregory Weiss from the University of California, Irvine.
PEGS Europe is a five-stream, five-day event, and consists of twelve conference tracks:
Antibody engineering stream
Display of Antibodies
Bispecifics and Novel Products
Cancer Biotherapeutics
Biologics development stream
Optimisation & Development
Aggregates & Particles
Characterising Biotherapeutics
Bioproduction stream
Purification Technologies
Bioreactor Design & Engineering
Scaling-Up and Down
Protein expression stream
Engineering Expression Systems
Applying Expression Platforms
Scaling-Up & Down
Impurities & stability stream
Purification Technologies
Aggregates & Particles
Formulation & Stability
For complete program information and registration details, visit PEGSummitEurope.com.