Quotient Clinical expands its formulation development services with the acquisition of Co-Formulate
Quotient Clinical, the Translational Pharmaceutics® company, has announced that it has acquired formulation development specialist Co-Formulate Limited…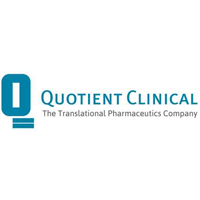 Quotient Clinical, the Translational Pharmaceutics® company, has announced that it has acquired formulation development specialist Co-Formulate Limited.
Quotient Clinical has brought innovation to the drug development process through its unique Translational Pharmaceutics platform, which challenges the conventional industry approach by integrating formulation development, real-time GMP manufacturing and clinical testing. The acquisition of Co-Formulate reinforces and extends Quotient's existing pharmaceutical development capabilities across solid, semi-solid and liquid formulations. Co-Formulate is based adjacent to Quotient's new GMP facility in Nottingham, UK, which will enable seamless integration of formulation development and GMP manufacturing services.
Mark Egerton, Chief Executive Officer of Quotient Clinical, commented:
"We are delighted that Co-Formulate has become part of our business. The company brings a wealth of formulation development experience in areas that complement our existing capabilities. Its expertise in helping customers to manage product life cycles and develop a range of product formats, including age-appropriate paediatric and geriatric formulations, will help us to extend our customer base and service portfolio. These are important areas of our growth strategy over the coming years."
Huw Jones and Nazim Kanji, Directors and founders of Co-Formulate, said:
"We are excited to join forces with Quotient Clinical. The co-location of our formulation development laboratories with Quotient's new GMP manufacturing facility will deliver a real advantage for our customers. We will now be in a position to deliver seamless programs consisting of formulation development, clinical trial manufacturing and clinical testing, all under the umbrella of a single organisation."
Financial terms of the transaction were not disclosed. Quotient Clinical's legal advisors on the acquisition were Browne Jacobson, and Dow Schofield Watts performed financial due diligence. The shareholders of Co-Formulate received legal advice from Shakespeare Martineau, and financial advice from Realise Capital Partners.
Related topics
Related organisations