Future proofing – Part 2. PAT – Real time release testing of tablets
What requirements need to be met by a tablet testing system to guarantee a successful product release?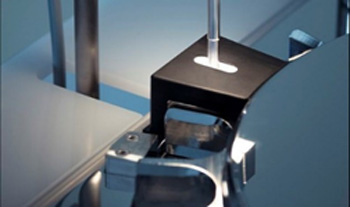 What requirements need to be met by a tablet testing system to guarantee a successful product release? Is it dependable upon the testing system's quality, speed, technology, flexibility or safety? Kraemer & Ischi explain…
In truth, it comes down to a combination of all of these aspects. Today there are more challenges than ever before as the pharmaceutical industry endeavours to make products safer by guaranteeing that they are of the highest quality, protect operators by ensuring safety in the production environment and save time and money through the use of flexible systems that speed up release times.
The current industry buzzwords are 'continuous production'. Sure, it sounds promising and somehow infinite, but what does the industry need to make it happen? Kraemer Elektronik and Charles Ischi are complementing the whole pharmaceutical development and manufacturing process with a small but very important contribution — quality control of tablets and capsules.
PAT – Real Time Release Testing of Tablets
Nowadays, batches easily reach sizes of >1,000,000 tablets. However, only 30 tablets are use for content uniformity (CU) release testing. This same assay of samples is typically checked for other parameters such as weight, hardness, thickness and diameter. These huge batch sizes and the trend for the change to continuous production require rapid and accurate analysis methods such as the well-known multi-parameter Universal Tablet Hardness Testing System (UTS4.1) and the rapid NIR measurement device VisioNIR LS for CU from visiotec.
The UTS-Extended with integrated VisioNIR LS technology can check for these physical-chemical characteristics.
In some cases, the thickness or the bizarre shape of the tablets does not allow the transmission measurement. The solution is the possibility to switch via a multiplexer from transmission to reflection mode to enable the user to measure each available tablet on the market. For detailed homogeneity inspection requirements, the tablet can be area-scanned in reflection mode. The resulting plot is an image of the tablet showing the active pharmaceutical ingredient (API) content distribution in the tablet. On the other hand, the mean content of this multi-spot measurement can be used for an overall statement of the API content of the tablet. From a quality point of view, the RAS measurement provides more solid results.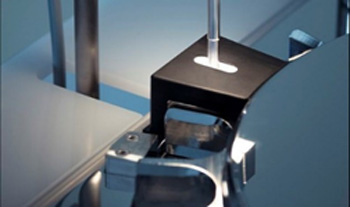 As opposed to the required 30 samples, the UTS-Extended can increase the sampling size up to 300 samples per hour. The system can be run in online configuration for automated tablet feeding from a connected tablet press or as a standalone system in production or the laboratory. The reliable trend monitoring visualises the CU prediction value of each sampled tablet. Outliers can be safely identified. The UTS-Extended is dedicated to real time release testing (RTRT) of tablets.
More information: www.ischi.ch