GlobalData forecasts huge increase in psoriasis therapeutics market
The psoriasis therapeutics market is set to more than double from $6.6 billion in 2014 to over $13.3 billion by 2024, according to research and consulting firm, GlobalData.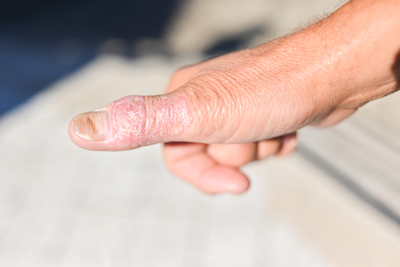 This significant increase represents an annual growth rate of 7.3% – an encouraging statistic for the 2-3% of sufferers throughout the world who are looking for relief from the chronic genetic skin disorder.
Psoriasis therapeutics market driven by many factors
GlobalData's report states that this impressive growth will be driven by the launch of new psoriasis products, as well as the expansion of existing therapies – such as dimethyl fumarate from Germany into the US and major European markets – and the rapid uptake of biosimilars for currently marketed biologics.  The patents for high-grossing branded drugs, such as TNF inhibitors, Humira, Enbrel and Remicade, in the US and 5EU in France, Germany, Italy, Spain and the UK are due to expire over the forecast period and will inevitably spread growth throughout the different levels of products in the coming years.
Unique drugs will enhance psoriasis therapeutics market
Although the psoriasis market will be crowded, novel products from Eli Lilly and Johnson & Johnson are expected to achieve sales in excess of $1 billion each due to their high clinical efficacy and safety profiles
Nikhilesh Sanyal, Ph.D., GlobalData's Analyst covering Immunology, explains: "Although the psoriasis market will be crowded, novel products such as Eli Lilly's anti-interleukin(IL)-17 drug, ixekizumab, and Johnson & Johnson's (J&J's) IL-23 inhibitor, guselkumab, are expected to achieve sales in excess of $1 billion each by the end of the forecast period, primarily due to their high clinical efficacy and safety profiles."
"Other pipeline therapies with exceptional efficacy and safety credentials include Merck's tildrakizumab and AstraZeneca/Valeant's brodalumab, which will go a long way towards addressing the current need for therapies that can provide long-lasting results without side effects or an increased risk of comorbidities."
More information about the report can be found here: http://store.globaldata.com