Allergan's $200 million expansion of its Waco facility gets underway
Allergan has broken ground on a $200 million expansion of its Texas Waco facility that will nearly double its current footprint when completed…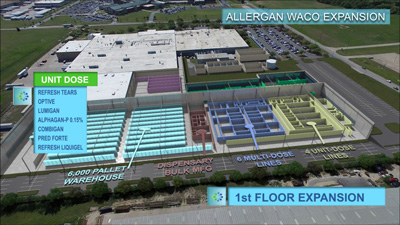 Allergan has broken ground on a $200 million expansion of its Texas Waco facility that will nearly double its current footprint when completed.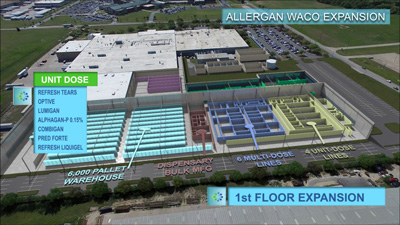 The expansion adds 322,000 square feet of manufacturing space to the current facility. Once completed, the expansion is expected to add approximately 100 full-time jobs, with the potential for the expanded operations adding as many as 250 full-time jobs as the facility reaches full utilisation.
Additionally, the facility expansion will upgrade the Company's manufacturing capabilities and capacity. The expansion will add a new raw material dispensary, an automated bulk formulation suite and ten new state-of-the-art production lines as well as warehousing space. Upon completion, the Waco facility will be capable of producing more than 40 different product formulations and will increase its production capacity by more than 50 percent.
Waco facility expansion expected to be completed by 2020
The construction, commissioning and validation of the facility expansion and production processes are expected to be completed by 2020.
Commenting on the expansion, Brent Saunders, President and CEO of Allergan, said: "This investment will add highly-skilled jobs to the Waco and Central Texas economies, elevate our manufacturing capabilities and increase our ability to provide more complex medicines to more physicians and their patients around the globe."
Tom Kelly, Ph.D., Baylor Centre for Business & Economic Research in Baylor's Hankamer School of Business has analysed the impact of the expansion. Dr Kelly's impact analysis found that the the expansion will add $380 million to the Central Texas economy during the construction period. Dr Kelly also predicts that upon completion of the capital expansion, Allergan's annual economic impact on the Central Texas economy will be $461.3 million compared with the previously projected $407.2 million per year.
Allergan currently employs more than 750 highly skilled workers at its 400,000 square-foot Waco facility. The facility currently produces a number of eye-care and dermatological products, including Restasis (Cyclosporine Ophthalmic Emulsion) 0.05%, a treatment that helps increase the eyes' natural ability to produce tears, which may be reduced by inflammation due to Chronic Dry Eye, and Latisse (bimatoprost ophthalmic solution) 0.03% an FDA-approved treatment to grow eyelashes for people with inadequate or not enough lashes.
Related topics
Related organisations