Watson-Marlow Fluid Technology Group is the world leader in niche peristaltic pumps and associated fluid path technologies
Watson-Marlow is the only company in the world able to provide a complete package of fluid path technology expertise to the biotechnology industries…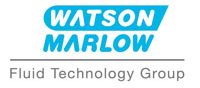 Watson-Marlow is the only company in the world able to provide a complete package of fluid path technology expertise to the biotechnology industries. For customers, this helps to reduce validation risks in demanding contamination-free applications; and contributes to improved confidence in process sterility.
Watson-Marlow's accurate and hygienic pumping technologies, single-use tubing connector systems and aseptic valves are relied on all over the world, in a variety of bioprocessing stages. This includes media and buffer preparation; fermentation; harvest; purification; and fill/finish.
The Group, which is now comprised of nine business areas includes: Watson-Marlow Pumps, Watson-Marlow Tubing, Flexicon Filling Systems, BioPure single-use tubing connector systems, Aspeco aseptic valves, and Alitea OEM Pumps. The recent acquisition of FlowSmart further extends Watson-Marlow's fluid path product range.
Watson-Marlow is comprised of nine business areas; six of which are represented at INTERPHEX 2016:
Watson-Marlow peristaltic pumps totally contain fluid to be pumped, ensuring isolation from any source of contamination. The single-use fluid path design of our pumps eliminates the risk of batch contamination and downtime. This, coupled with the low shear, gentle pumping action, delivers tangible process benefits: Customers can be confident that their product is not damaged by high fluid velocities or by contact with mechanical parts.
Watson-Marlow is the only company that manufactures cased pumps and biopharmaceutical tubing. This is a real advantage for customers that demand consistent, accurate and long-term performance coupled with traceability. All tubing is USP Class VI validated and is supplied with detailed certification in every box.
Flexicon Liquid Filling manufactures a range of products from stand-alone units for hand filling, through semi-automatic systems, to fully automatic filling, stoppering and capping machines. Flexicon's systems are designed for small to medium sized batch production.
Drawing on considerable single-use expertise, BioPure Technology provides the flexibility of customised single-use fluid path solutions to suit a range of bioprocessing needs.
ASEPCO Weirless Radial diaphragm in-line valves feature an easy-to use clamp assembly to make inspection and diaphragm change a rapid process. Valves reduce maintenance costs up to 80% and never need adjusting or re-tightening.
The most recent company to join the WMFTG Group is FlowSmart, who add an extensive range of fabric, braided and wire reinforced platinum silicone hoses and high-purity sanitary gasket products to the range.
Related topics
Related organisations