Green tea compound shows promise in Down's syndrome trial
Epigallocatechin gallate, together with a cognitive stimulation protocol, might improve some cognitive domains in individuals with Down's syndrome…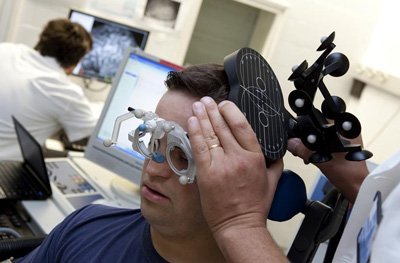 A team of scientists have shown that epigallocatechin gallate, a compound present in green tea, together with a cognitive stimulation protocol, might improve some of the intellectual capacities in individuals with Down's syndrome, and might modify the excitability and functional connectivity of their brains.
The researchers say this is a scientific and social landmark for people with Down's syndrome and their families, and for the Catalan research system, as proof of the quality and leadership of its centres.
"This is the first time that a treatment has shown some efficacy in the improvement of some cognitive tasks in persons with this syndrome, states Mara Dierssen, head of the Cellular and Systems Neurobiology group at the Centre for Genomic Regulation (CRG). "It must be made clear that our discovery is not a cure for Down's syndrome and that our results have to be proven in larger populations, but it may be a treatment to improve these individuals' quality of life."
Down's syndrome affects approximately one out of 1,000 persons in the world. It is caused by a trisomy of chromosome 21. The work of the researchers focuses on the role of a compound called epigallocatechin gallate, which compensates for the excess of function of one of the genes present in chromosome 21 (DYRK1A), involved in cerebral plasticity and certain cognitive functions. The study results indicate that individuals treated with epigallocatechin gallate and a cognitive stimulation protocol had score improvements in visual recognition memory, inhibitory control, and adaptive behaviour, and that these changes might be correlated with biological changes in their cerebral connectivity.
The research of Dr Dierssen's group focuses on the molecular and behavioural analysis of learning and memory disorders in intellectual disability. Specifically, they have been studying mice models of the DYRK gene, which is responsible for many of the deficiencies of cognition and neuronal plasticity in Down's syndrome. Once the effect of an overexpression of DYRK1A was demonstrated in mice, the objective was to discover whether inhibiting it led to improved function and development of the brain. Working with another research group at the CRG led by Cristina Fillat (now at IDIBAPS), they met this goal through gene therapy, although unfortunately, the results were not applicable to humans. Once epigallocatechin gallate was proposed as a possible inhibitor of the effects of DYRK1A, Dr Dierssen began to use this compound in her experiments, achieving results that confirmed its efficacy on mice.
Physical or neurophysiological changes in the brain
To bridge the gap from preclinical research to a clinical trial, it was essential to work with a group specialised in neuropharmacology. Dr Dierssen's group teamed up with Rafael de la Torre at Hospital del Mar Medical Research Institute (IMIM).
Dr de la Torre's Integrative Pharmacology and Systems Neuroscience Research group led a clinical trial with 84 persons with Down's syndrome aged 16 to 34 years. "The results suggest that individuals who received treatment with the green tea compound, together with the cognitive stimulation protocol, had a better score in their cognitive capacities," states Dr de la Torre. However, studies in larger populations have still to be done.
The scientists studied more than the cognitive effects on the study participants. They also conducted neuro-imaging tests to determine whether the improvement was attributable to physical or neurophysiological changes in the brain. "It was surprising to see how the changes are not just cognitive—in the reasoning, learning, memory and attention capacities—but suggest that the functional connectivity of the neurons in the brain was also modified" says Dr de la Torre.
Drs Dierssen and de la Torre have plans to continue this research, and will soon launch a clinical trial in children with Down's syndrome. "Our results have been already marginally positive in the adult population, in which cerebral plasticity is limited because the brain is already completely developed. We believe that if the treatment is applied to children, the results might be even better," say the researchers.
Related topics
Related organisations
Related diseases & conditions