FDA approves Epclusa for treatment of chronic HCV
Epclusa is the first all-oral, pan-genotypic, single tablet regimen for the treatment of adults with genotype 1-6 chronic hepatitis C virus (HCV) infection…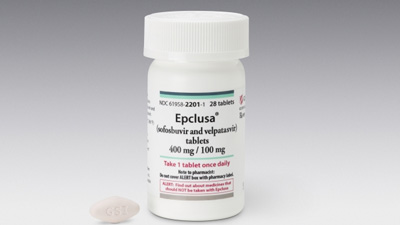 The US Food and Drug Administration (FDA) has approved Gilead's Epclusa (sofosbuvir 400 mg/velpatasvir 100 mg) for the treatment of adults with genotype 1-6 chronic hepatitis C virus (HCV) infection both with and without cirrhosis.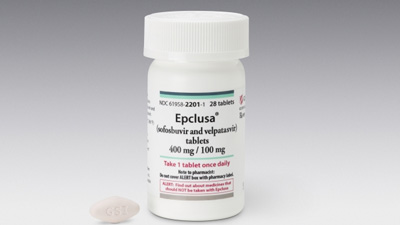 For patients with moderate to severe cirrhosis (decompensated cirrhosis), Epclusa is approved for use in combination with the drug ribavirin. The therapy is the first to treat all six major forms of HCV.
Commenting on the approval, Ira Jacobson, MD, Chairman of the Department of Medicine at Mount Sinai Beth Israel, New York City and a principal investigator in the Epclusa clinical trials, said: "The approval of Epclusa represents an important step forward in the global effort to control and potentially eliminate HCV as it provides a safe, simple and effective cure for the majority of HCV-infected patients, regardless of genotype. Building on the established backbone of sofosbuvir, Epclusa demonstrated consistently high cure rates across all genotypes, including among patients with genotype 2 and 3, who traditionally have required ribavirin or other multi-pill regimens."
"This approval offers a management and treatment option for a wider scope of patients with chronic hepatitis C," said Edward Cox, M.D., director of the Office of Antimicrobial Products in the FDA's Centre for Drug Evaluation and Research.
Approval supported by data from four Phase III studies
The safety and efficacy of the therapy for 12 weeks was evaluated in three Phase III clinical trials of 1,558 subjects without cirrhosis or with compensated cirrhosis (mild cirrhosis). Results demonstrated that 95–99 percent of patients who received Epclusa had no virus detected in the blood 12 weeks after finishing treatment, suggesting the patients' infections had been cured. The safety and efficacy of the therapy was also evaluated in a clinical trial of 267 subjects with decompensated cirrhosis (moderate to severe cirrhosis), of whom 87 subjects received Epclusa in combination with ribavirin for 12 weeks, and 94 percent of these patients had no virus detected in the blood 12 weeks after finishing treatment.
The most common side effects of the therapy include headache and fatigue. Epclusa and ribavirin combination regimens are contraindicated for patients for whom ribavirin is contraindicated.
Related organisations
Related diseases & conditions