Triplet-exciton energy transfer from semiconductor nanocrystals demonstrated using Edinburgh Instruments systems
Researchers at North Carolina State University, led by Prof. Felix Castellano, have shown for the first time that the photogenerated triplet exciton in semiconductor nanocrystals can be harvested by surface bound molecular acceptors, exhibited by a six-order magnitude increase in the lifetime of the originally prepared excited state…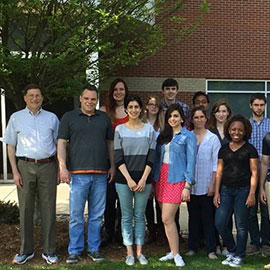 Researchers at North Carolina State University, led by Prof. Felix Castellano, have shown for the first time that the photogenerated triplet exciton in semiconductor nanocrystals can be harvested by surface bound molecular acceptors, exhibited by a six-order magnitude increase in the lifetime of the originally prepared excited state.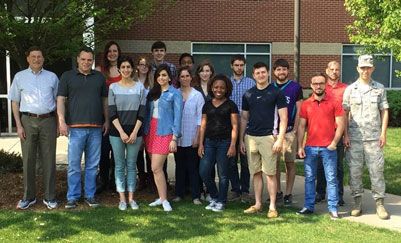 The research publication, featured in the prominent Science Magazine and titled "Direct observation of triplet energy transfer from semiconductor nanocrystals," highlights the use of carefully constructed materials and multiple spectroscopic techniques to measure and characterize the triplet exciton energy transfer from cadmium selenide (CdSe) semiconductor nanocrystals, prepared by Prof. Mikhail Zamkov and his group at Bowling Green State University, and surface bound 9-anthacenecarboxylic acid (ACA).
To observe the lifetime differences of CdSe nanocrystals and the CdSe-ACA energy transfer construct, the researchers utilized an Edinburgh Instruments Transient Absorption Spectrometer and MiniTau Fluorescence Lifetime Spectrometer; these instruments complimented the ultra-fast transient absorption experiments and allowed for the detailed measurements of the lifetime increases associated with the triplet exciton energy transfer. Prof. Castellano, a long-time user of Edinburgh Instruments spectrometers, complimented the instrumentation stating the Transient Absorption Spectrometer and MiniTau spectrometers have operated flawlessly since their installation and the results generated on behalf of this project (and all other photophysical projects) on nanosecond and longer time scales are always high quality, reproducible, and reliable.
Edinburgh Instruments is pleased to work with such premier research groups, and looks forward to working with all of its current and future customers to facilitate and excel their photophysical and photochemical measurements.
As one of the world's largest manufacturers of leading edge spectroscopic instrumentation and gas detection solutions, Edinburgh Instruments is ready for all your research and technical needs.
The Science Magazine article is available at: http://bit.ly/1MhkmQM
Related topics
Related organisations