Dolomite and Lab on a Chip Video Competition winner cooks up a treat
This year's MicroTAS Video Competition has been won by Enrica Rollo from EPFL (École polytechnique fédérale de Lausanne) in Switzerland, for her entertaining comparison between cleanrooms and kitchens…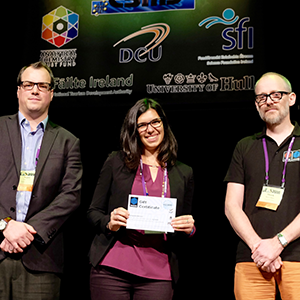 This year's MicroTAS Video Competition has been won by Enrica Rollo from EPFL (École polytechnique fédérale de Lausanne) in Switzerland, for her entertaining comparison between cleanrooms and kitchens. The annual competition – run by microfluidics specialist Dolomite and Lab on a Chip, and supported by the Chemical and Biological Microsystems Society – embraces the lighter side of life sciences and chemistry, while giving delegates a chance to win €2,500 worth of Dolomite microfluidics equipment.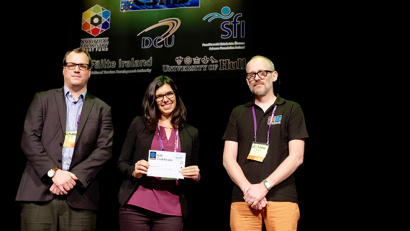 Enrica's winning entry was a recipe for a 'Micropillars Chocolate Cake', providing an imaginative yet informative explanation of how micropillar electrodes are created and used to monitor the passage of single cells. Substituting silicon dioxide, platinum and titanium for chocolate, hazelnuts and coconut, her entry certainly had the judges' interest! Enrica picked up her prize voucher from Dolomite's Mark Gilligan and Sam Keltie, Executive Editor of Lab on a Chip, at the event, and is now busy designing her new microfluidic system.
About Dolomite:
Established in 2005 as the world's first microfluidic application centre, Dolomite focused on working with customers to turn their concepts for microfluidic applications into reality. Today, Dolomite is the world leader in solving microfluidic problems. With offices in the UK, US and Japan, and distributors throughout the rest of the world, its clients range from universities developing leading-edge analytical equipment, to manufacturers of chemical, life sciences and clinical diagnostics systems.
www.dolomite-microfluidics.com
Related topics
Related organisations