ESP & GS1 Ireland Partner to Improve Biopharmaceutical Anti-Counterfeiting Solutions
Enterprise System Partners (ESP) has formally signed a partnership agreement with GS1 Ireland to work collaboratively in the development and delivery of the highest anti-counterfeiting solutions based on GS1 standards to the biopharmaceutical manufacturing industry…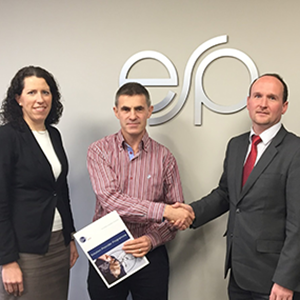 Enterprise System Partners (ESP) has formally signed a partnership agreement with GS1 Ireland to work collaboratively in the development and delivery of the highest anti-counterfeiting solutions based on GS1 standards to the biopharmaceutical manufacturing industry. This partnership will focus on sharing industry knowledge, developing further expertise and ensuring the adoption of best in class global product identification standards to the life science industry both in Ireland and globally.
"Working together, ESP and GS1 Ireland will be at the forefront of providing pharmaceutical manufacturers with the expertise to achieve their serialisation and anti-counterfeiting obligations in line with the highest global standards. This is an exciting opportunity for ESP to impart our industry knowledge and experience to a group with responsibility for setting the most widely used supply chain standards in the world including serialisation barcodes." Liam O'Riordan, Serialisation Director, ESP.
"GS1 Ireland is delighted to welcome ESP to our Solution Provider Programme. As one of the fastest growing sectors globally, the biopharmaceutical industry is facing an increasing number demands including regulatory compliance and supply chain security.
Given the synergy in our expertise, GS1 and ESP will work together to support biopharmaceutical companies towards the adoption of serialisation and the deployment of standards-based traceability infrastructures such as EPCIS." Mike Byrne, CEO, GS1 Ireland.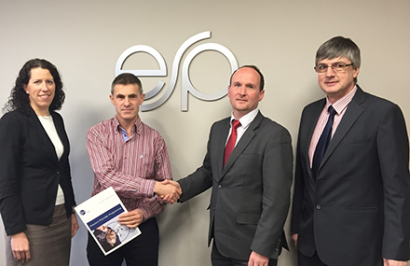 About Enterprise System Partners (ESP):
Enterprise System Partners (ESP) is a leading global consulting and project engineering company – supporting manufacturing IT solutions for the life science industry since 2003.
We offer specialist support and consulting services exclusively for manufacturing and supply chain operations in biotechnology, pharmaceutical and medical devices, with core focus on Manufacturing Execution Systems (MES) and serialisation.
Our specialist consultants and engineers have the expertise to support the concept, planning, vendor selection, design and implementation of the entire manufacturing systems landscape from process automation to the enterprise layer (level 0-4).
We have offices in Cork, Boston, Eindhoven, San Francisco, the Research Triangle & Istanbul allowing us to support projects with local resources worldwide.
About GS1 Ireland:
GS1 Ireland is part of the global GS1 network – an international, neutral, not-for-profit organisation with operations in 112 countries around the world, including Ireland. GS1 is dedicated to developing standards which enable the unique identification of products, locations and other assets and the sharing of information about them, though barcodes, radio frequency Identification (RFID), EPCIS, e-commerce and master data management.
Today, GS1 standards have become the global language of business and are now used in supply chain processes by some two million companies and organisations across 20+ different industry sectors worldwide. GS1 standards are used by organisations to drive systems that enable businesses to operate more efficiently, safely and sustainably.