AFSEM™ offers a solution for conductive AFM in SEM with self-sensing cantilevers
GETec and Nanosurf now offer self-sensing conductive cantilevers for AFSEM™ that enable conductivity probing in the vacuum environment of the SEM…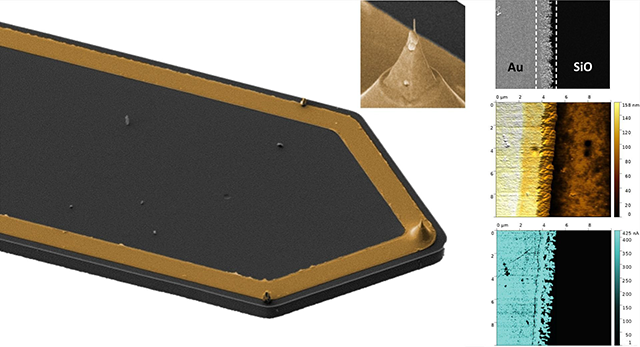 GETec and Nanosurf now offer self-sensing conductive cantilevers for AFSEM™ that enable conductivity probing in the vacuum environment of the SEM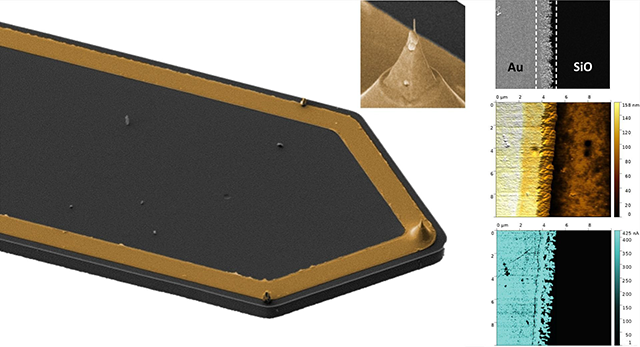 The scanning electron microscope is an established tool for imaging, processing and material analysis of surfaces. It is however not possible to measure the local electrical properties like conductivity of the surface. With micromanipulators, local conductivity can be probed only pointwise.
Measurement of local conductivity is a standard imaging mode with AFM in air and is used as analytical tool in failure analysis, measurement of doping concentration, and material characterization. However, surface contamination and the common water film between tip and sample reduce reliability and repeatability.
Enter AFSEM™, the AFM for SEM: with its new, self-sensing conductive cantilevers it enables correlative conductivity probing in the vacuum environment of the SEM, reducing the problems encountered in air. The cantilevers feature solid platinum tips, reducing tip radius compared to cantilevers with a conductive coatings.
An example on conductivity measurements of FEBIP treated Pt(C) can be found here.
Want to know more about AFSEM? Contact us or send us an e-mail at [email protected].