Vibratory sifters assure product quality and heighten productivity for global pharmaceutical manufacturers
The use of industrial sieving equipment in pharmaceutical manufacturing is critical to ensure product quality and integrity. To keep up with growing product demand, most pharmaceutical manufacturers must also improve productivity while protecting the health and safety of operators.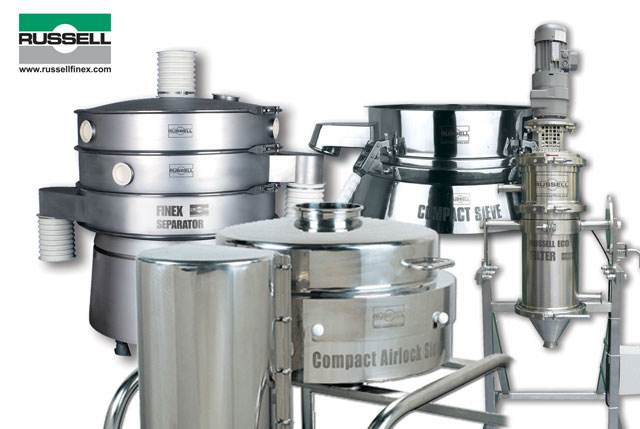 As a global leader in sieving and separation equipment, Russell Finex continually works in partnership with a variety of pharmaceutical manufacturers to ensure that check-screening and separation processes safeguard product quality as well as satisfy FDA sanitary standards.
Ensure product quality
A crucial step in processing pharmaceutical products, is to select the right sieving equipment to remove agglomerates, oversize particles or contaminants from incoming raw dry materials.
When a company is as completely committed to quality assurance such as Klinge Pharma, diligence is required at each stage of the manufacturing process. The German-based, over the counter (OTC) pharmaceutical manufacturing company utilises Russell Finex vibratory screening machines and separators at various stages of production. Initially, two vibratory sieves screen incoming ingredients, principally to remove any lumps that may have formed during transportation. Several Russell gyratory separators are also used at a later stage in the process, to separate powders into different particles sizes before further processing and remove any agglomerated particles, after final product coating.
Due to its compact design, Klinge Pharma chose the Russell Compact Sieve® because it provides accurate, and high capacity check-screening at less than half the height of traditional industrial sieves. The easy-clean design offers quick disassembly for cleaning between batches, enabling high quality pharmaceutical products to be consistently controlled and produced according to quality standards.
The plant also utilises the Finex Separator™ to remove agglomerated particles that form during processing. The high capacity vibrating separator is suitable for sizing, check-screening and grading a variety of pharmaceutical powders and granules. In one pass, materials can be screened to remove oversize contamination or separated into 5 different fractions to ensure that the final product meets precise specification. The unit is designed to keep maintenance to a minimum and is available in a high quality 316L grade stainless steel finish, to suit the pharmaceutical industry. The Finex Separator™ offers measurable operating benefits that include accurate particle size separation, increased separation efficiency and consistent product quality.
Achieve high containment check-screening
For many years, occupational exposure limits (OELs) and personal protective equipment (PPE) have safeguarded employees' health when handling pharmaceutical formulations which contain high levels of potent active pharmaceutical ingredients (API's). Russell Finex manufactures a range of fully-contained powder sieving equipment which further protects operator exposure to hazardous airborne dust particles.
Cipla is a leading Indian pharmaceutical company, who manufacture over 1,000 products across various therapeutic categories. When building an OEL compliant plant, the Russell Compact Airlock Sieve™ was installed to safety screen highly potent API's to remove oversized contamination.
The Russell Compact Airlock Sieve™ is certified to OEL level 5, to provide the highest level of product containment. The sanitary sieve utilises a pneumatic airlock clamping system to contain toxic dust. The patented Twist, Lock, Inflate (TLI) technology provides a uniform, dust-tight seal to safeguard against powder leakage. This minimises operator reliance, while maximising screening performance.
Improve process efficiency
GlaxoSmithKline (GSK) manufacture pharmaceuticals for major diseases, vaccines as well as consumer healthcare products and are known as the world's sixth largest pharmaceutical company. One of the largest GSK manufacturing facilities in the U.K are improving process efficiency by using industrial pharmaceutical sieves fitted with the Vibrasonic® Deblinding System from Russell Finex. The sanitary vibratory sifters are used at the final stage of primary manufacture, to screen pharmaceutical powders to the required size before they are sent away to the second manufacturing stage – where the powders are made into tablets or liquid suspensions.
Many global pharmaceutical manufacturers use the Russell Vibrasonic® Deblinding System to prevent mesh screen blinding or blocking.  The innovative system applies an ultrasonic frequency to the mesh screen to breakdown surface tension. This makes the screen wires friction-free, therefore preventing particles that are slightly greater and smaller than the mesh apertures from blinding or blocking the screen.
Some of the pharmaceutical powders produced at the GSK plant are static and of a low density, making them difficult to screen efficiently because of mesh blinding. This ultimately slows down production and reduces screening efficiency. Following the installation of the Russell Vibrasonic® Deblinding System, GSK has solved the mesh blinding problems and significantly increased productivity, all while adhering to stringent FDA and due diligence requirements.
For over 80 years, Russell Finex has provided efficient and hygienic sieving solutions to pharmaceutical companies around the world. Contact Russell Finex or read more case studies to learn more about their innovative pharmaceutical sieving solutions, and how they can help you meet your exact requirements.
Related topics
Related organisations