HUBER offer ATEX rated solutions for the Unistat® range of high precision temperature control systems
ATEX solutions for zones 1 & 2, offer two options to address application complexities…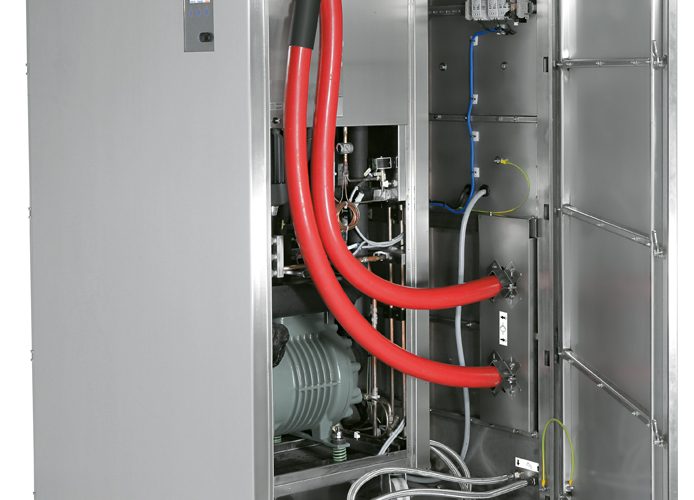 Huber's ATEX solutions for zones 1 and 2, offer the user a choice of two options to address application complexities, restraints and demands.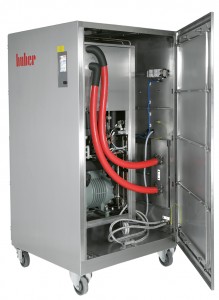 In addressing the complexities, restraints and demands of ATEX zones 1 & 2, Huber offer two solutions for use with the Unistat range of temperature control systems.
The first option consists of a watercooled Unistat® installed in an Ex-p pressure encapsulated ATEX rated cabinet according to EN 60079-2 ( Ex px II T4).
The Ex p cabinet is made from stainless steel with a sealed double door and is used as part of a complete system as a neutral shelter in areas with possible explosive atmosphere. Compressed air is pumped into the cabinet purging it of any potentially dangerous vapours and creating a pressure slightly above atmospheric level.
The Unistat® can be controlled via the touchscreen or with the encoder as the pilot is sealed inside the chamber. This ensures explosive vapours are kept out of the cabinet and away from the Unistat®.
The second option is an ATEX certified remote controller, which can be located in the ATEX zone for convenient operation of the Unistat® situated in the safe zone.
The ATEX remote controller conform to ATEX class II 2G Ex ib IIC T4.
Combined with the Unistat's® hydraulically sealed, low volume fluid circuit and Huber's knowledge of thermal transfer and temperature control, an ATEX certified system is available that provides rapid and responsive temperature control for even the most aggressive and demanding applications, from -120°C up to 300 °C.
For more information visit www.huber-online.com