Hudson Robotics announces new easy-to-use interfaces for complex instruments
Hudson Robotics announced the release of multiple interfaces for SoftLinx™ V software…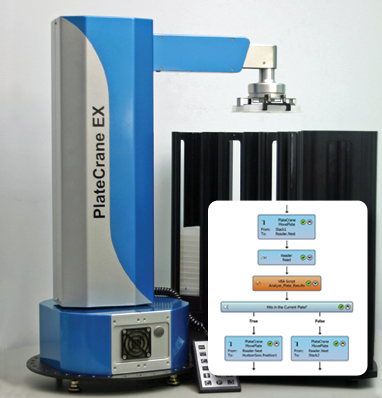 Hudson Robotics announced the release of multiple new interfaces for SoftLinx™ V software that allows users to easily integrate complex instruments. Laboratories can now quickly, easily and affordably automate complex readers, incubators, Real-Time PCR instruments and liquid handling systems.
New interfaces for the BD Pathways™ high content cell analyzer, the Genetix CloneSelect™ Imager, the ForteBio Octet and the BMG PHERAstar HTS reader, the Liconic STR series of under the bench robotic friendly storage systems and incubators, the Bio-Rad CFX96™ Real-Time PCR Detection System and the Applied Biosystems™ 7900HT Fast Real-Time PCR System can now be easily integrated with plate handling, multiple instruments or as part of a larger work cell. Updated interfaces allowing easy integration of additional instruments and/or more plate capacity to existing Beckman, Tecan or Hamilton liquid handling decks are available.
"Customers are struggling to find easy-to-use solutions for their laboratory automation needs" says Scott VanderWoude, Director of Marketing and International Sales. Scott continued, "Our customers are asking for turnkey solutions that solve their problem today but are flexible enough to adapt to changes down the road. Too often customers discover that flexibility can come with a steep price for changing protocols or instruments. The greatest benefit of SoftLinx V is that once users are familiar with the flow chart driven menu, they can control multiple instruments from almost every supplier in Life Sciences. Combining SoftLinx V, our interfaces and the PlateCrane EX™ robotic arm allows users to quickly build and validate their automated solution."
SoftLinx V is the company's latest release of their premier scheduling, robotic control and data management software. In 2010 Hudson made SoftLinx V available free of charge. The company continues this policy. Instrument integrations and methods developed by the company are available for purchase. The company recommends using SoftLinx V with the reliable and easy-to-use PlateCrane EX.
About Hudson Robotics, Inc.
Located in Springfield, New Jersey, Hudson Robotics, Inc. is an innovative market leader with 28 years experience providing automation solutions to accelerate life sciences research, offering a unique mix of instrumentation, customized software and scientific knowledge. The company provides tools and automation solutions in drug discovery, proteomics and genomics. For more information, go to www.hudsonrobotics.com.
BD Pathways™ is a trademark of Becton, Dickinson and Company
CloneSelect™ is a trademark of Genetix Ltd.
CFX96™ is a trademark of Bio-Rad Laboratories
Related organisations
Related people