Antalis drives forward with new vehicle fleet
Antalis' customers are set to benefit from a fleet of more technologically advanced vehicles as part of its £5m partnership with fleet provider, Fraikin…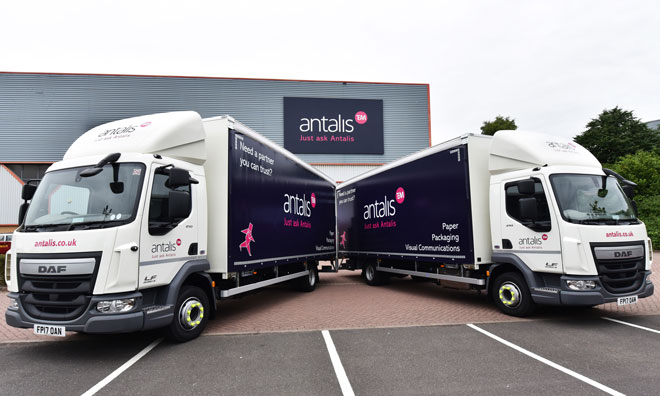 Antalis' customers are set to benefit from a new fleet of more technologically advanced vehicles as part of its £5m partnership with leading commercial fleet provider, Fraikin.
Antalis recently took delivery of the first batch of its 81 new vehicles, having struck up a new seven-year contract with Fraikin at the beginning of the year to modernise its 160-strong fleet.
Latest technology
The new vehicles all feature brand new livery and the very latest technology designed to improve driver comfort, raise safety standards and lower CO2 emissions, all while ensuring an enhanced customer experience.
The state-of-the-art DAF Euro VI curtain-sided vehicles boast everything from advanced emergency braking which will trigger full on braking should an acute risk be detected and lane departure warnings alerting drivers if the vehicle is in danger of veering out of lane, through to a reversing camera for further enhanced vehicle safety. Each vehicle even comes with silent mode for quieter night-time deliveries and performance indicators to ensure safety standards are met at all times.
Safety and efficiency
The vehicles are fully compliant to the FORS standards which, through additional mirrors, signage, cameras and audio warning systems, aim to improve efficiency and ensure the safety of vulnerable road users and site operators.
Antalis makes nearly 800,000 deliveries of paper, packaging and visual communication products every year from its network of central and regional distribution centres to customers across the UK and Ireland.
David Hunter, Antalis regional managing director for UK, Ireland and Southern Africa, comments: "Our business is built on delivering excellence to customers and we feel it's important to uphold this culture through our logistic operations.
"Our new fleet means that we can offer customers a market leading service and enhanced vehicles that will make a real difference to every stage of their delivery. Above all else, safety is our number one concern and these new vehicles are equipped with technology that will help protect our employees, customers and other road users. It's a significant investment for Antalis which will enable us to provide an even better service to our customers, aiding future business growth."
Ed Cowell, CEO of Fraikin, says: "Having secured the partnership in January this year, we are thrilled to begin to roll out the first tranche of new vehicles. Antalis is a leader in its field reputed for excellence and we believe this innovative fleet will help ensure a seamless, first class service to customers."
Related topics
Related organisations
Related people