KENX announces CQV – Commissioning, Qualification and Validation University set for Dublin, Ireland
Validation University offers a customisable, hands-on training for immediate, actionable results.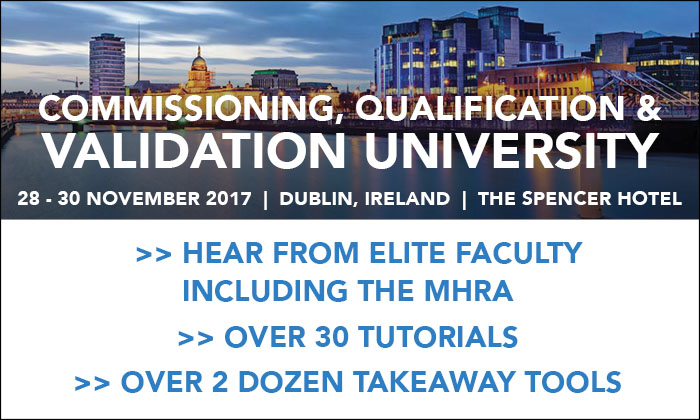 Pharmaceutical leaders and life science industry professionals will gather 28 – 30 November in Dublin, Ireland, for Knowledge Exchange Network's (KENX) Commissioning, Qualification and Validation University (CQV-U).
Validation University overflows with rich, actionable content for life science industry professionals. Attendees can customise their event experience choosing from over 30 tutorials in the areas of Commissioning and Qualification, Process Validation, Data Integrity Compliance, Computer Systems Validation and Cleaning Validation. Over two dozen implement-ready takeaway tools will be available. Leading organisations such as ValGenesis, Bausch + Lomb and Bayer will demonstrate best-in-class procedures and processes. Validation University will also feature a Regulatory Town Hall Meeting, featuring — Tracy Moore, GMDP Operations Manager and Senior Inspector, MHRA, "Critical Insight on Data Integrity and Other CQV Regulations, Inspections and Trends."
Validation University is a dream come true for engineering, quality, C&Q and validation professionals offering hands-on training for pharmaceutical, biotech, medical device and related industries. The event is also appropriate for business development and sales managers that offer solutions for quality, validation and engineering professionals in the life science environment.
Register now for CQV-U or for more information, download the CQV-U brochure.
Knowledge Exchange Network (KENX), located in San Diego, California, USA, is dedicated to making the life science industry a safer place by bringing together life science professionals for interactive conferences, webinars and valuable free process documents. Get more information on KENX and upcoming events.
Related topics
Related organisations
Related people