Anritsu capsule checkweighers deliver industry-leading weighing performance on your pharmaceutical production line
Anritsu's capsule checkweighers were developed and commercialised in 1970 ahead of others in the world, and ever since they have been used by many pharmaceutical manufacturers worldwide…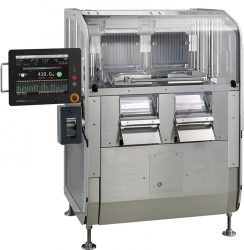 The KW9001AP series is our third generation of capsule checkweighers with maximum throughput of 120,000 and maximum accuracy of +/- 2 mg, which also corresponds with each validation activity, was developed and commercialised in 1997. The introduction of the KW9001AP series to inspect new drugs as well as generic drugs is progressing and there has been market demand for a capsule checkweigher with higher accuracy in recent years.
More stringent weight management is required in the process of manufacturing pharmaceuticals such as anti-cancer drugs and immunosuppressants that show high efficacy with a small amount in order to exhibit the efficacy. For that reason, it is required to perform mass measurement and screening for empty capsules before filling as well as 100 per cent inspection of capsules after filling with high accuracy.
Capsules that contain medicine are usually made from gelatin-based animal materials such as beef bone, pig skin, fish, etc. Due to religious dietary restrictions, various types of capsules made from non-animal based material have also been developed. The process of manufacturing animal-derived gelatin capsules has been established to produce capsules with less variation in weight. Generally, non-animal capsules are difficult to manufacture and variation in weight is large.
Capsules are used for Controlled Release as DDS (Drug Delivery System) that delivers a drug as much as necessary for as long as necessary to the necessary location. When capsules have large variation in weight, it may be caused by the material of capsules being varied in thickness. This makes it hard for capsules to demonstrate its function sufficiently. Those non-animal capsules with large variation in weight in particular are required to be performed mass measurement and screening at high precision before filling in order to ensure a stable quality.
Recently, deficiencies with regard to data integrity in manufacturing operations have been increasingly observed during the audit and the demand for data management system using electronic records and electronic signatures, which are the requirements of 21 CFR Part 11 regulations, is rising.
In order to meet such various demands, we have decided to develop the KWS9001AP series capsule checkweigher, our fourth generation of capsule checkweighers.
The KWS9001AP model achieved the industry's highest weighing accuracy of +/- 0.5 mg by developing the advanced force balance load cell, meeting even the most stringent standards for capsules containing high potency active pharmaceutical ingredients.
An inclined chassis eliminates blind spots, further preventing dropped capsules from going missing or mixing with other products. The checkweigher is designed to be easy and quick to clean, and parts changeover is tool-free.
Anritsu capsule checkweighers meet the validation requirement with 21 CFR Part 11 compliance such as electronic records and electronic signatures, providing the best weighing solution that solves pharmaceutical manufacturing challenges. 
Statistics: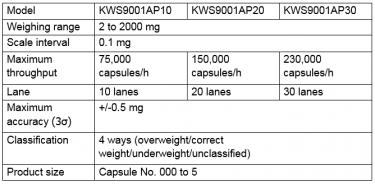 The KWS9001AP capsule checkweigher, our fourth generation of checkweighers, with industry-leading weighing performance enhances both production and research & development efforts.