Watson-Marlow Fluid Technology Group presents complete bioprocessing fluid path showcase at Achema 2018
Watson-Marlow Fluid Technology Group (WMFTG) the world leader in peristaltic pumps and associated fluid path technologies, will showcase its complete range of bioprocessing products at ACHEMA 2018…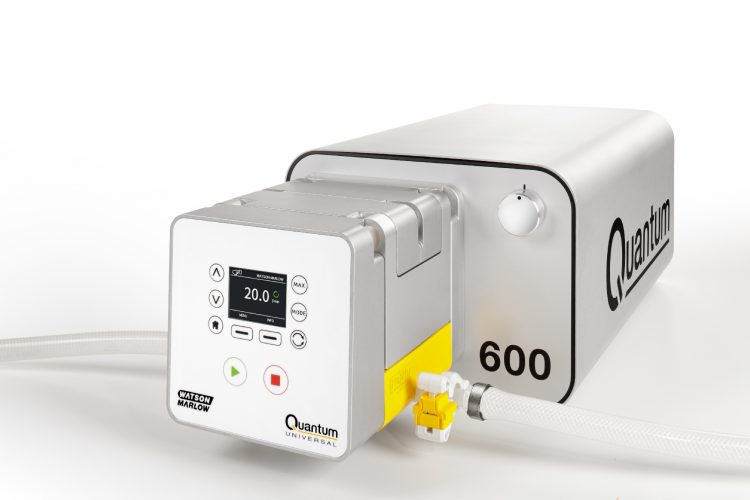 New products on display this year on stand E70, Hall 3.1 include the new Quantum peristaltic pump for single-use downstream bioprocessing, Flexicon PF7 aseptic liquid filler, tamper evident BioPure Q-Clamp for single-use Tri-Clamp® applications, and an expanded range of high purity gaskets, valves and hoses.
The innovative Quantum peristaltic pump features patented ReNu SU Technology cartridge. Engineered by the world leader in peristaltic technology, Quantum sets the standard for high-pressure feed pumps in single-use tangential flow filtration, virus filtration, and high-performance liquid chromatography (HPLC). Quantum outperforms other pumps by delivering higher accuracy with flow linearity independent of back-pressure, removing the need for flow meters and load cells. This virtually pulse-free performance enables constant pressure, thus maximizing process efficiency and yield.
Also on display is the new Flexicon PF7 aseptic liquid filler, for operation in GMP-regulated industries such as biotechnology, pharmaceutical, and diagnostics. Engineered with Flexicon's trademark precision performance, the PF7 adds a more intuitive, operator interface to reduce the risk of costly filling errors. The PF7 is optimised for precision dispensing by weight or by volume using Flexicon's Accusil tubing and single-use asepticsu fluid paths, simplifying cleaning validation and changeover.
WMFTG's expanded range of BioPure fluid path components, now including laser etched gaskets, braided silicone hose, connectors, and the tamper evident Q-Clamp, will be on display, delivering customers a single-source for fully traceable end-to-end fluid path solutions.
Group Product Compliance Manager at Watson-Marlow Fluid Technology Group, Sade Mokuolu Ph.D, will present a paper at ACHEMA focused on how to reduce risk in the product development process through the use of validated fluid path solutions. Dr Mokuolu's presentation is part of the event Process analytical technology – Bio-chemical processes II. This presentation takes place on 13.06.18 at 16.00-16.30 in Hall CMF 'Harmonie 1'.
The Watson-Marlow tubing on display is manufactured in an ISO 14644-1 Class 7 cleanroom to ISO 9001:2008 standards, following cGMP guidelines. Other products on display that make up the total fluid path solution include FlowSmart PolyClamp EPDM gaskets which are USP Class VI certified ASEPCO Weirless Radial diaphragm valves; and Aflex PTFE flexible hoses.
For more information: www.wmftg.com