Pioneering radiotherapy machine treats its first patient in the UK
Improved accuracy and fewer patient side effects are among the benefits claimed for the pioneering radiotherapy machine…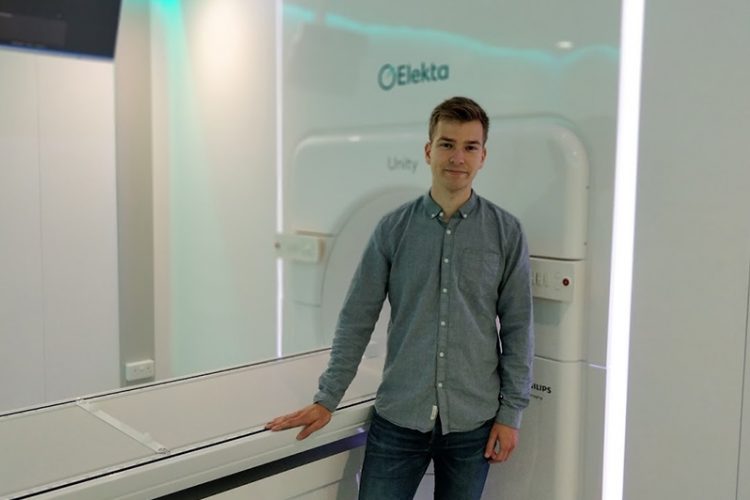 Joshua Freedman, a third-year PhD student in the institute's Division of Radiotherapy, helped to develop the pioneering machine.
A pioneering radiotherapy machine, developed by the Royal Marsden NHS Foundation Trust and the Institute of Cancer Research, London, has treated its first patient in the UK.
The Magnetic Resonance Linear Accelerator (MR Linac) machine is the first to simultaneously generate magnetic resonance images and deliver X-ray radiation beams. This allows radiotherapy to be adjusted in real time and delivered more accurately and effectively than before, according to its developers.
The ability to target tumours with radiation beams in real time was said to be particularly effective for cancers that change position through breathing, bladder filling or bowel changes. It should also reduce the side-effects for the patient.
Target tumours with radiation beams
Tumours in the prostate, lung, bladder and bowel can now be targeted in real time – allowing the radiation beams to be adjusted with more precision during the course of treatment.
Professor Uwe Oelfke, Head of the Joint Department of Physics at The Institute of Cancer Research, London, and The Royal Marsden, who leads the joint MR Linac project, said: "For decades the radiation oncology community has dreamed of the day when we could see what we treat in real time; just as our surgical colleagues do, and we are excited that this day has arrived.
"Radiotherapy is important to the treatment of around 40 per cent of the people who are cured of cancer. But if we want to fully unlock the potential of radiotherapy by making it even more precise in targeting the cancer and avoiding healthy tissue, we need to be able to see a patient's tumour while we deliver the radiation treatment. The MR Linac will make this possible."
'Unlock the potential of radiotherapy'
The MR Linac machine was expected to enable "another step change" in improving cancer treatment, added Prof Oelfke. "This trial is for prostate cancer but we anticipate the MR Linac will help us improve radiotherapy for a wide range of cancers, including hard-to-treat forms such as lung and pancreatic cancer."
Joshua Freedman, a third-year PhD student in the institute's Division of Radiotherapy and Imaging who helped develop the machine, said it combines two technologies to tailor the shape of X-ray beams in real time and accurately deliver doses of radiation.
"Currently, the same radiotherapy treatment plan is used for all fractions [treatment rounds], but this approach has setbacks: a patient's anatomy might undergo slow changes between treatment fractions, for example because of weight-loss or tumour shrinkage," said Freedman in a blog post.
"Another issue is that conventional radiotherapy is not able to fully account for any rapid anatomical changes during treatment delivery, for example, as a result of breathing, or due to bladder filling."
The first patient to receive the treatment was Barry Dolling, aged 65, who has prostate cancer.
Meanwhile, the MR Linac radiotherapy machine has already been used to treat patients at cancer centres in the Netherlands, in Utrecht and Amsterdam.