The Omega Series with ACU – Complete and individual control of O2 and CO2 in your microplate reader
BMG LABTECH now offers the Atmospheric Control Unit (ACU)…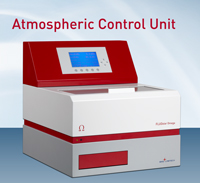 BMG LABTECH now offers the Atmospheric Control Unit (ACU) – a complete solution for fully regulated independent control of both oxygen (O2) and carbon dioxide (CO2) levels within your multimode microplate reader.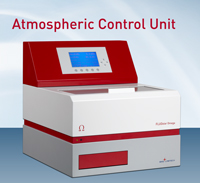 Available for the entire range of Omega microplate readers, the microprocessor controlled ACU offers dual independent control of both gases within the microplate reading chamber. The microprocessor controlled unit can regulate CO2 (0 – 20%) and O2 (1 – 19%) independently, making it unnecessary to change gas cylinders or piped gas supplies to reproduce certain physiological conditions needed for cell-based assays. When used in combination with the Omega's other features such as extended temperature control up to 65°C and shaking (orbital, double orbital and linear), users can reproduce most physiological conditions making cell-based assays more biologically relevant. The Omega series of microplate readers can measure multiple detection modes including Fluorescence Polarization (FP), Fluorescence Intensity, Time-Resolved Fluorescence (TRF), TR-FRET, AlphaTechnologies®, High-Performance Luminescence and UV/Vis spectrometer based absorbance. Applications can be run in a dedicated mode or a combination of all modes to acquire all the data you need in a single experiment. The multimode capabilities, together with the Atmospheric Control Unit , are especially advantageous for a variety of applications including Mammalian Cell Assays, Stem Cell Assays, Hypoxia, Cell Viability, Cell Proliferation, Migration Studies, Invasion Assays, Intracellular pH, Angiogenesis, Ischemia / Reperfusion, and many more. Incorporating the ACU into an Omega microplate reader, extended cell based experiments can now even be performed without user intervention, providing a true walk away assay solution. This makes the BMG LABTECH ACU the most flexible gas control system available in a microplate reader.
For more information on the Atmospheric Control Unit, the Omega series and other innovative microplate reading solutions, visit www.bmglabtech.com or contact your local BMG LABTECH representative.