Handheld Raman – Cut costs, improve efficiency & move toward 100% testing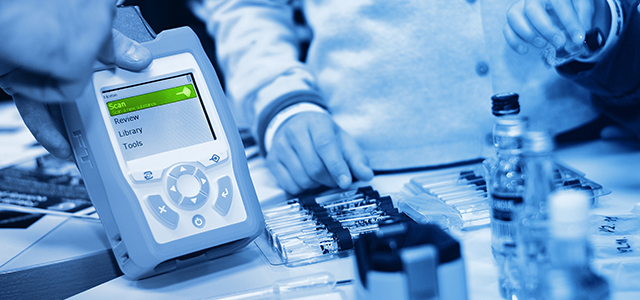 This webinar discussed how handheld Raman is being used to streamline the pharmaceutical manufacturing process and reduce pharmaceutical product recalls and plant shutdowns.
We provide a brief overview of typical incoming raw material inspection processes and discuss how handheld Raman increases productivity and satisfies stringent cGMP requirements. We also discuss how recent developments in handheld Raman technology will continue to enable wider and faster deployment to achieve the goal of 100% testing of raw materials.
Lastly, we discuss the importance of a simplified user interface for non-technical users and how advances in technology have addressed this need.
Keynote speakers
Ravi Kalyanaraman, PhD, Associate Director, Bristol-Myers Squibb Company
Ravi received his Ph.D. from the University of Idaho in 1996 and has been with Bristol-Myers Squibb since 2002. His recent work with Bristol-Myers Squibb has been focused on developing new and novel techniques to detect pharmaceutical counterfeits and raw material authentication. His interests are mainly in using vibrational spectroscopic techniques, such as Raman, mid and Near-Infrared (NIR) for pharmaceutical counterfeit detection.
John Kauffman, Research Chemist, FDA

John leads a team of spectroscopists who develop portable spectroscopic methods for rapid screening of pharmaceutical materials using chemometric models. Spectroscopic technologies currently under investigation include x-ray fluorescence, ion mobility spectrometry, Raman and NIR spectroscopy. His team also performs research on process analytical technologies for pharmaceutical manufacturing. In addition he runs projects that utilise deep ultraviolet resonance Raman spectroscopy for analysis of therapeutic proteins, and inductively coupled plasma mass spectrometry for analysis of toxic metals in pharmaceuticals.
Enrique Lozano Diz PhD, Business Development Manager, B&W Tek

Enrique  is responsible for guiding product management and developing new strategic business partnerships, as well as supporting global partners. He has 8 years of extensive experience in spectroscopy and the instrumentation market, as well as a Ph.D. in Chemistry.
Supported by B&W Tek
B&W Tek is a vertically integrated advanced instrumentation company with expertise in photonics, laser, spectrometer, and chemometric technologies producing spectroscopy and laser instrumentation. Their business spans mobile spectroscopy solutions including a full line of portable Raman and handheld Raman systems, building block spectrometer and laser components for system integrators, and customised solutions for targeted application needs. They provide solutions for the pharmaceutical, biomedical, physical, chemical, safety and security, medical devices, research and educational communities.
Find out more: www.bwtek.com