Is intranasal drug delivery the best way to administer COVID-19 therapeutics?
In this article, we investigate three of the latest developments in COVID-19 therapeutics that are delivered intranasally.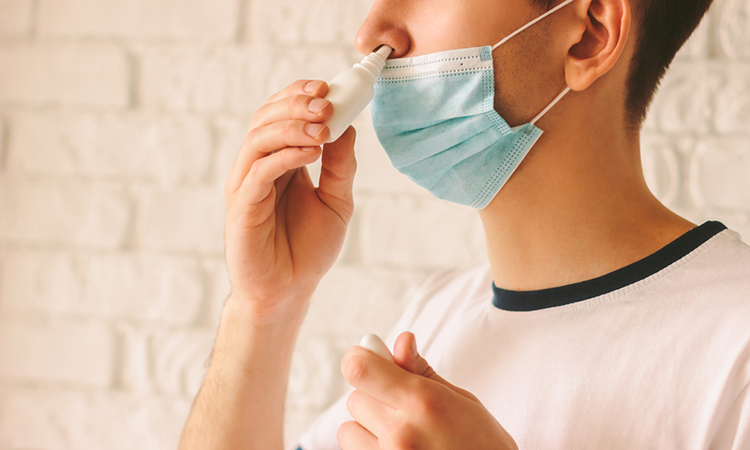 With the rapid development of COVID-19 treatments and vaccines, one avenue of investigation for researchers aiming to enhance their therapeutics is exploring different forms of drug delivery, including intranasal sprays. Here, we look at three recent developments in COVID-19 intranasal drug delivery:
A COVID-19 vaccine
Codagenix and the Serum Institute of India (SII) received regulatory approval from the UK Medicines and Healthcare products Regulatory Agency (MHRA) to initiate a Phase I clinical trial of COVI-VAC, a single-dose intranasal, live attenuated vaccine against COVID-19.1 The trial began in early January 2021.
According to Codagenix, COVI-VAC was shown to be safe and efficacious in pre-clinical animal studies. COVI-VAC was developed using synthetic biology to re-code the genes of SARS-CoV-2 into safe and stable vaccines. The vaccine is designed to deliver a safe, live attenuated version of SARS-CoV-2. As a single-dose, intranasally-delivered vaccine, COVI-VAC does not require a needle and syringe, nor ultra-low temperature freezers.
The Phase I trial of COVI-VAC is designed as a randomised, double-blind, placebo-controlled, dose-escalation study to evaluate the safety and tolerability of a single dose administered by nose drops. The secondary objective of the study is to evaluate immunogenicity, measured as neutralising antibody, mucosal immunoglobulin A (IgA) and cellular immune responses.
"While other vaccine candidates have received approval and others may soon follow, we believe that there are still clear challenges in actually rolling out these vaccines and supplying the global community," commented Dr J Robert Coleman, Chief Executive Officer (CEO) of Codagenix. "The potential of COVI-VAC to meet the global demand as a single-dose, needle-free vaccine that needs only a standard freezer or fridge cannot be overstated."
With the Phase I trial now initiated, Codagenix and SII expect to begin advanced clinical testing in mid-2021.  
Dr Coleman concluded: "Recent weeks have seen researchers reach incredible milestones, but given the scale and global breadth of the pandemic, we believe that multiple vaccines will be needed to ensure equitable access."
Success in pre-clinical trials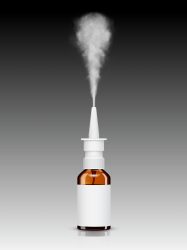 Eureka Therapeutics has announced successful pre-clinical results from its InvisiMask™ Human Antibody Nasal Spray in mice, which offered protection against SARS-CoV-2 pseudotyped virus infection for up to 10 hours.2
The drug is an intranasal application of a proprietary human monoclonal antibody (mAb) that is intended to be used as a prophylactic against contracting SARS-CoV-2 infection. The results of the study have been published in pre-print in bioRxiv.
The mAb nasal spray is designed to neutralise SARS-CoV-2 from airborne droplets and particles in the nasal cavity – the primary entry point of SARS-CoV-2 infection. The antibodies bind to the S1 Spike (S) protein of SARS-CoV-2 and prevent them from binding to the angiotensin-converting enzyme 2 (ACE2) receptor on cells in the upper respiratory system. This blocks SARS-CoV-2 from entering cells and triggering an infection. Eureka used a human antibody as the S protein binder to reduce the risk of adverse effects from immunogenicity, which might occur if the binder was an antibody of animal origin or a foreign peptide.
According to the company, the mAbs have been engineered with a proprietary adhesion technology that increases their retention on respiratory mucosal surfaces, extending the duration of protection from infection. Researchers found that the mAbs can bind and inhibit more than 20 SARS-CoV-2 variants, including the highly infectious D614G mutation. No adverse effects were observed in the pre-clinical studies.
"We envision a daily nasal spray that functions like an invisible mask in slowing the spread of COVID-19," said Dr Cheng Liu, President and CEO of Eureka Therapeutics. "Anti-SARS-CoV-2 antibodies have demonstrated their effectiveness in treating patients with confirmed cases of COVID-19 and the US Food and Drug Administration (FDA) recently granted two companies emergency use authorisation to use them intravenously as a therapeutic. Using antibodies in a preventative nasal spray adds to the arsenal of tools that we have to fight the spread of COVID-19 and the concept can be applied to other airborne diseases. We are excited about the results and are working to advance the product for human use."
Eureka is now preparing an Investigational New Drug application with the FDA for a clinical trial of the InvisiMask nasal spray.
Nasal spray in clinical trials
In the UK, clinical trials of an intranasal spray proven to kill 99.9 percent of SARS-CoV-2 began in early January this year.3 The therapy is also currently being studied in Phase II clinical trials throughout Canada, approved by Health Canada and in other countries.
The SaNOtize Nitric Oxide Nasal Spray (NONS) is designed to kill the coronavirus in the upper airways, preventing it from incubating and spreading to the lungs. Developed by SaNOtize Research and Development, based in Vancouver, Canada, the treatment was effective in killing SARS-CoV-2 in independent lab tests. Additional studies in rodents with COVID-19 infection showed over 95 percent reduction within the first day after infection.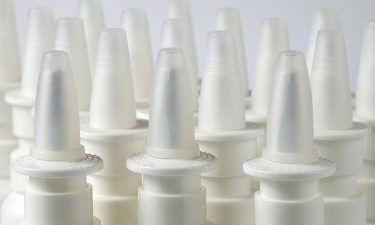 The SaNOtize treatment is based on nitric oxide, a natural nanomolecule produced by the human body with proven anti-microbial properties shown to have a direct effect on SARS-CoV-2. The treatment can be delivered by intranasal spray, throat gargle or nasal lavage.
"The SaNOtize nasal spray provides a barrier. It contains nitric oxide, which prevents and treats early infection by destroying the virus and impeding viral replication within the cells in the nose. In addition, nitric oxide has been shown to block the ACE2 receptor essential for the virus to infect our cells. That is what makes our product unique and enables it to stand alone from any other nasal approach," said Dr Chris Miller, Chief Science Officer and Co-Founder of SaNOtize.  
References
Codagenix I. Codagenix and Serum Institute of India Announce Commencement of First-in-Human Trial of COVI-VAC, A Single Dose, Intranasal Live Attenuated Vaccine for COVID-19 [Internet]. Prnewswire.com. 2021 [cited 1 February 2021]. Available from: https://www.prnewswire.com/news-releases/codagenix-and-serum-institute-of-india-announce-commencement-of-first-in-human-trial-of-covi-vac-a-single-dose-intranasal-live-attenuated-vaccine-for-covid-19-301191756.html
Eureka Therapeutics Announces Successful Preclinical Results of InvisiMask™ Human Antibody Nasal Spray Against SARS-CoV-2 Infection [Internet]. Eurekatherapeutics.com. 2021 [cited 1 February 2021]. Available from: https://www.eurekatherapeutics.com/media/press-releases/121420/
Covid-busting Nasal Spray Begins UK Trials January 11th [Internet]. AP NEWS. 2021 [cited 1 February 2021]. Available from: https://apnews.com/press-release/business-wire/science-business-public-health-products-and-services-coronavirus-pandemic-d6bf385141184700a2bde035c6b47678