Taking cell and gene therapies from idea to commercialisation
David Vincent, Process Development Lead at eXmoor Pharma, details some of the critical steps that form the manufacturing strategy for providers of cell and gene therapies.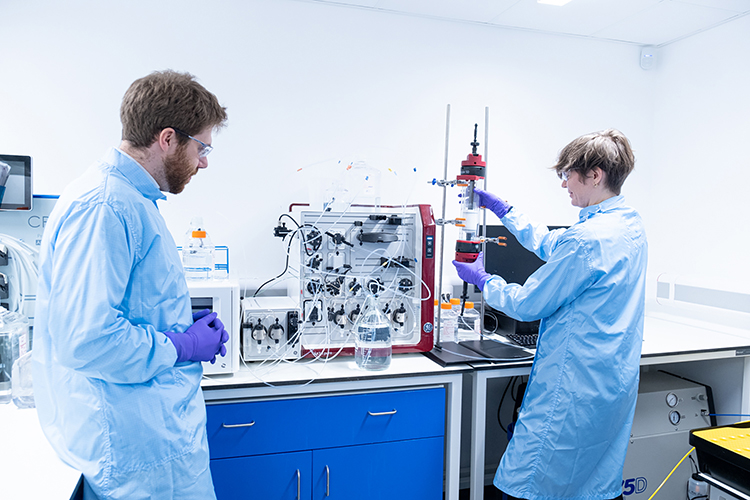 AS THE DEMAND for cell and gene therapies continues to grow at an exponential rate, more and more therapy developers will be grappling with the complex process of building and executing manufacturing strategies.
The market is taking off, as the promise of cell and gene therapy is becoming realised with the successful market approval of products delivering benefit to patients with previously life-limiting diseases, such as spinal muscular atrophy (SMA).1
As highly advanced biological products, such therapies have the unique potential to treat and cure previously difficult-to-treat diseases and disorders, from genetic diseases to complex neurological and cardiovascular disorders and potentially multiple cancers.
New research2 has also shown that stem cell therapy can substantially improve survival rates in end-stage COVID-19-associated Acute Respiratory Distress Syndrome (ARDS).
In financial terms, 2020 saw record levels of financing3 in the gene therapy sector at approximately $20 billion, doubling that of 2019. The global stem cells market4 is set to reach a value of $297 billion by 2022 and, in Europe, the market is growing at a rate of 9.45 percent a year.
if cell and gene therapy manufacturing is to keep up with demand, more cell and gene therapy manufacturing capacity, and facilities, are needed"
Put simply, if cell and gene therapy manufacturing is to keep up with demand, more cell and gene therapy manufacturing capacity, and facilities, are needed.
However, it is a complex process with many moving variables, especially in terms of managing a manufacturing strategy, which requires significant resource commitment, demands tremendous attention to detail and carries high risk.
But what can cell and gene therapy providers do to mitigate some of the risks and ensure a seamless manufacturing strategy is created and delivered? Here, I outline five considerations that should form part of any planning.
To build or to buy?
Whether to build or buy manufacturing capacity will be a recurring question that must be assessed at various stages of clinical development for different products.
It is important to ensure that whichever decision is reached is compatible with your organisation's overall business objectives; this means taking account of a wide variety of factors, starting with arguably the most obvious – cost. This will be especially relevant in the early stages of a company's lifecycle when availability of capital is likely to be a pressing issue.
However, cost is far from the only factor in the build or buy equation.
Among the other factors needing consideration are time required to manufacture, availability of in-house resources, intellectual property (IP) and product protection, risk of clinical failure, manufacturing readiness and extent of the wider product portfolio.
Choose the right manufacturer
If opting to buy manufacturing capacity, it is essential to dedicate enough time and energy to selecting the optimum manufacturing partner.
Based on our experience of working in the European Union (EU) and United States, there are numerous configurations and requirements that can be fulfilled by different types of contract manufacturing organisations (CMOs). Some may be best served by 'traditional' good manufacturing practice (GMP) CMOs, while others may be better suited to strategic partnering with a commercial or hotel-type CMO.
Manufacturer selection processes should only begin when clear deliverables have been defined"
The challenge of selecting the right CMO can be made easier by incorporating a degree of structure to the process.
We compare CMOs with a ranking system based on the needs of clients – this is compiled by grading responses to our customers' requirements, questions and quotations, and results in an objective comparison tool that becomes more exhaustive as we add more data.
Define your deliverables
Manufacturer selection processes should only begin when clear deliverables have been defined.
Not only will this enable proper accurate comparisons to be made between potential CMO partners, but it will also assist with several other critical stages of the strategy, not least project management for transfer of technology from client to manufacturer.
Technology transfer, which although is subject to individual project nuances, typically consists of a series of phases.
First is the building of a complete technology transfer package, which is something we have extensive experience in advising on. After this, a kick-off meeting involving all stakeholders is critical to dissect the content; this covers key information such as specifications, materials, processes, quality control and equipment requirements for each project/product.
Once all information has been formally exchanged, physical site visits should take place at both the client's and CMO's premises to demonstrate and observe processes.
The next steps involve preparing documentation, method transfers and qualifying quality control assays, operators, processes and aseptic procedures, before moving into the clinical readiness stages.
Defining deliverables for each of these stages is vital in reducing potential for project friction.
Know your costs
Having a firm grip of costings and how these can fluctuate at various stages of the manufacturing process is another essential component.
To be as accurate as possible, multi‑disciplinary input on costings is needed"
We approach this under the umbrella of a cost of goods analysis (CoG), a tool which can help forecast the cost of manufacturing at your stem cell and gene therapy facility – from specific elements of the manufacturing process to other factors such as costs for managing donations and general admin; it is important to consider every financial implication.
A cashflow approach is recommended. This should cover all major costs such as facility, staffing, materials and production volumes; factoring in how these may fluctuate over time in order to make accurate forecasts in the event of changes being made.
To be as accurate as possible, multi‑disciplinary input on costings is needed. For example, we derive capital and staffing costs from project and process engineers, with direct costs taken from cell and gene therapy consultants (and our PD lab), and regulatory costs from compliance experts.
Potential cost variations should be explored using sensitivity analysis techniques. These can provide enhanced cost certainty, which in turn can inform important strategic manufacturing decisions and model risks.
Do not ignore due diligence
Several risks can be averted by deploying due diligence at the outset of the manufacturing process.
Does my manufacturing partner have expertise related to my specific manufacturing process? Do they have cell and gene therapy expertise and a proven track record? Do they have the scalability and production capacity to fulfil my needs? What changes will they need to make to meet these capacity and/or quality demands?
These are just some of the key due diligence questions that need to be addressed before committing to a project.
By following all of these simple but fundamental steps, operators in the stem cell and gene therapy market can ensure their life-saving work is based on stable foundations.
About the author
David Vincent has several years of industrial experience in downstream process development and technology transfer. David provides technical expertise in mAb and viral vector processes and has worked with a wide variety of unit operations and analytical techniques using both univariate and a range of multivariate tools, including DoE and Simplex to solve complex problems.
References