Staying abreast of regulations with NGS‑based viral safety for faster, safer and more ethical lot release of our vaccines
Here, Sridhar Pennathur, Vice President, Analytical Development at Novavax, highlights the value of next generation sequencing in their vaccine production operations by answering key questions.
What are the key trends in the biologics or bioproduction industry?
As the healthcare sector grows, there is a clear trend towards the expansion of biologic therapeutic drugs and vaccines like the one developed by Novavax. However, the design of these innovative biologics comes with intrinsic constraints.
From our front row view of the pandemic these past three years, our mission necessitated that we leverage our years of vaccine expertise to help global health authorities address, control and eradicate the severe acute respiratory syndrome coronavirus 2 (SARS‑CoV-2). Our unique technology must enable a rapid response to emerging variants or other infectious diseases as they arise in the future. To summarise, bioproduction hurdles include the necessity to be fast, agile and, not to be understated, able to deliver safe and effective vaccines worldwide.
How does that impact the safety of the biologics?
Safety is key to the development of any medicine, but the safety considerations linked to bioproduction are more complex because biologics are more sophisticated medicines than small molecules. Any modification in the manufacturing process could drastically impact the structure or the effectiveness of the product for patients, inciting a major public health threat.
We have witnessed a technological leap in the design, development and manufacturing of biologics. However, the biosafety testing strategies rely on outdated technologies that have remained unchanged for decades. A typical example is the classical biosafety animal testing driven by a collection of guidance documents that often were not revised for decades (eg, ICHQ 5A).1
In vivo and in vitro tests were very powerful when first implemented. Today, they are simply not sufficient for the accurate detection of viral contaminants. These tests are time‑consuming, often leading to lengthy additional investigations, cannot detect all types of viruses, and are dependent on various factors like the animal type or the cell model. This could lead to false positives or, even worse, false negatives!
A huge drawback of these classical methods is the use of animals for viral safety tests (adult mice, suckling mice, hamsters, guinea pigs and embryonated eggs). Novavax is particularly sensitive to this matter and is looking for alternatives that will not only benefit the patients but align with a more ethical solution.
How are regulatory guidelines adapting to this trend?
First, we see a global trend of developing more ethical solutions for the safety testing of biologics. Regulatory bodies are currently encouraging new means to assess biosafety. There is a huge drive for the whole bioindustry to comply with the 3Rs principles regarding animal experimentation (replace, reduce, refine).2
Secondly, the pandemic has focused the need for rapid COVID-19 vaccine development and regulatory agencies have delivered several emergency use authorisations (EUA) in the fastest time possible. The pandemic was the wake-up call we needed to embrace existing advanced technologies for rapid and broad range testing – next generation sequencing (NGS) being the most promising. The European guidelines ICH Q5A3 already include NGS as an alternative to traditional animal- (in vivo) and cell-based (in vitro) testing for the detection of adventitious viruses and it will be broadened in the next international ICH Q5A regulations updated version to be released within the year. In addition, gathering critical data from a comparison study between NGS and traditional in vivo methods is necessary to hammer home the final arguments and facilitate the wide adoption of the method. We are very impatient to read the full study comparison currently in preparation by PathoQuest & Charles River, after seeing the preliminary results showing that NGS offers similar, and often better, sensitivity than in vivo.4
What key technologies and services can help bring innovative biologics faster and more safely to patients?
Quality by design is driving our biosafety approach and NGS offers a huge advantage over more classical testing strategies. It is the most relevant method to deliver fast and safe screening against viral contaminants. NGS-based good manufacturing practice (GMP)-grade service is essential, which is why we chose PathoQuest as one of our NGS providers as they offer GMP-grade services. We are producing a vaccine against COVID-19, a transformative player for regions where vaccination rates have not yet been maximised. We now have GMP manufacturing sites and partners across more than 10 countries. NGS is a unique tool capable of assessing the compliance of the million doses we will produce in a timely manner. We believe that our investment in NGS technology will benefit other products in our pipeline to bring greater hope to patients.
References
1. ICH Q5A (R1) Quality of biotechnological products: viral safety evaluation of biotechnology products derived from cell lines of human or animal origin. Step 5 Version [Internet]. London: EMEA; 1997 [cited May 2022]. Available from: https://www.ema.europa.eu/en/ich-q5a-r1-quality-biotechnologicalproducts-viral-safety-evaluation-biotechnologyproducts-derived
2. Guideline on the principles of regulatory acceptance of 3Rs (replacement, reduction, refinement) testing approaches [Internet]. London: European Medicines Agency; 2016 [cited May 2022]. Available from: https://www.ema.europa.eu/en/regulatoryacceptance-3r-replacement-reduction-refinementtesting-approaches
3. ICH Q5A (R1) Quality of biotechnological products: viral safety evaluation of biotechnology products derived from cell lines of human or animal origin. Step 4 Version [Internet]. ICH, 1999 [cited May 2022]. Available from: https://database.ich.org/sites/default/files/Q5A%28R1%29%20Guideline_0.pdf
4. PathoQuest. PathoQuest 4th Annual NGS Seminar | Evaluation of RNA Next-Generation Sequencing to Replace In Vivo Tests for Assessing the Viral Safety of Cell Improve QC Testing of Biologics [Internet]. 2021 [cited May 2022]. Available from: https://us02web.zoom.us/rec/share/F0UIdJy76DIg2dzyF0 nFQ5XdykTHc2ejmMLLPUbFPyQOPtvWFNEmHMw-DZom4oSb._4W2cWlEb439CWlu?startTime=1632749714000 – Article Publication 2022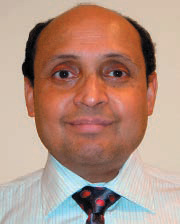 Sridhar Pennathur
Sridhar has over 30 years of expertise in the vaccine development industry. He is Vice President, Analytical Development at Novavax, based in Gaithersburg, Maryland. Previously, Sridhar was a Group Senior Director for the Global Technical Services at AstraZeneca/Medimmune.
Issue
Related topics
Related organisations