Outsourcing in the analytical and microbiology area
Increasing numbers of pharmaceutical companies are considering outsourcing in the area of analytical and microbiological testing, from the very smallest start-up, virtual, or small company up to the largest multinational. This article will examine the factors that lead to a company deciding to outsource, and provides invaluable guidance on the important considerations that should be made before, during and after the outsourcing process in order to ensure it runs as smoothly as possible.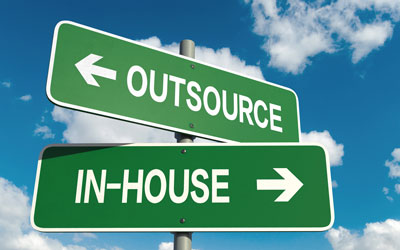 There are a number of reasons for outsourcing. Virtual companies, with a small number of experts from different areas of pharmaceutical development and manufacture, by definition don't have 'hands-on' analysts or suitable laboratories. Meanwhile, established companies, whether small firms or multinationals, have efficiency and cost considerations, which means they try to ensure that personnel are fully occupied at all times. They outsource aspects of their work to cope with logjams and peaks and troughs in their workload. Another reason for outsourcing is that companies may not have the expertise or the equipment to undertake specific pieces of work, but in these economic times it may be difficult to justify recruiting a suitably qualified 'handson' analyst with the necessary expertise or to justify the purchase of equipment, especially if it is costly and required for a few specific tasks. Space is another consideration, with companies perhaps not having enough space in their facility. A good example of this is a GMP compliant formal ICH stability storage facility, which may already be full.
Tasks that can be effectively outsourced
Release testing of incoming 'raw materials', including active pharmaceutical ingredients (APIs) and excipients to pharmacopoeia monographs, can be quite complicated, requires particular expertise and comprehension of pharmacopeias and their monographs, tends to need a wide range of reagents and is quite time consuming. This should be one of the first tasks that is outsourced to a very competent contractor.
Other tasks that can be outsourced include: development and validation of analytical methods; release testing of product, especially dosage forms that are new to the company e.g., inhalation products; and microbial testing aspects of environmental monitoring of manufacturing cleanrooms and water for injection ring mains.
Microbiological testing of incoming APIs and excipients and the process of formally justifying the decision not to test microbiologically appropriate 'raw materials' is quite a time consuming process compared to testing of chemicals; a significant percentage of APIs and excipients do not support microbial growth. Regulatory authorities are very keen for companies to adopt this approach, but many firms do not have the confidence or in-house expertise to take this approach so test all materials microbiologically which can be very time consuming and expensive. This should be one of the first tasks to hand over to competent microbiology testing contractors who can evaluate all materials and where appropriate prepare suitable justifications for not testing materials, only testing those that do have the potential to support microbial growth.
Risks and challenges
There are potentially many risks and challenges involved in the various phases of outsourcing. To be successful in outsourcing there are two key points to remember.
Firstly, and this is very important for start-ups, virtual and small companies, it is vital to identify and acknowledge the areas where the company does not have the expertise and experience. Several of these potential areas are identified in this article. It is important in these situations that the company uses a consultant with expertise who has successfully carried out this role many times. In the long term, this approach is a good investment.
Secondly, in a number of areas it is vital to use risk assessment and mitigation as a tool to identify the high risks and mitigate them to reduce them to risks of an acceptable level.
Criteria for the ideal contractor are as follows:
Really understands your needs
Has the exact expertise that you require
Has the exact equipment with the correct documentation needed for your work
Operates to quality standards appropriate to your needs
Has an excellent record in relation to regulatory inspections
Has all the appropriate documented systems and procedures in place
Has all the required licences, permits and certification to meet your needs
Charges reasonable costs for undertaking the work
Has suitably qualified and trained staff
Keeps you informed
Always submits the results on time
Has a good location.
Process of identification, evaluation and selection of outsource contractors
The steps and tasks relating to the identification of contractors include:
Defining and listing potential tasks that need to be outsourced, company requirements and selection criteria
Researching the market
Using the Internet to check Regulatory Authority websites for lists of certified testing laboratories and to undertake searches
Searching journals and directories
Consulting known professionals in their fields of expertise
Producing a list of potential outsource companies.
Steps and tasks relating to evaluation include:
Documenting all the relevant information found for each potential contractor
Studying contractor websites; these contains much relevant information, often including lists of equipment, available expertise and copies of inspection outcomes.
In the 'First Level Evaluation' one selects a shortlist of three to five potentially suitable companies in relation to requirements and the selection criteria. The 'Second Level Evaluation' involves circulating a quality questionnaire for completion by each shortlisted company.
Make a site visit
During the discussions the company should outline work that contractors are needed to undertake and using which quality standards. Looking to the future, it should outline other work that needs to be undertaken at later stages of the project. To aid the contractor's preparation for the meeting outline plans should be forwarded in advance of the meeting.
During a site tour, it is important to look out for notices such as copies of inspection outcomes, awards and trophies in meeting rooms – companies tend to proudly exhibit awards that satisfied customers have presented. Look for tidy desks and clean, well-maintained laboratories and welcoming laboratory staff wearing properly fastened lab coats.
From all the information gleaned about the short-listed contractors including the quality questionnaire and site visit, the company should select a final short list of two (three at most) contractors for the final selection process.
Final Selection Process
Listed below are some reasons for and against using a specific contractor. These make common sense but are worth noting.
Reasons to use a specific contractor:
Professional
Personal recommendation
Price is 'right and fair'
Worked on similar projects
Regulatory inspected/approved
Suitable location
Ease of travelling to their site.
Reasons against using a specific contractor
Difficulty in travelling to their site
Negative about being audited
Non-existent quality systems
Badly equipped
Inexperienced temporary staff
'Promise the world'
Price just too good.
Before starting the last phase of the selection process the final very important tasks to undertake are firstly, requesting that visited contractors submit quotations for the early phases of the proposed work. Secondly, undertaking GMP audits of each contractor is important. A company should use a competent consultant if no-one in the company has expertise and experience in the area of GMP audits of analytical and microbiology testing facilities.
The final selection process should consider the following:
Completed quality questionnaire and quality audit findings
Regulatory Inspections outcomes
Information gathered during meetings with potential contractors; the identification and evaluation process; provided by known professionals in their fields of expertise and any of the contractors known current customers
'Gut' feelings
Ballpark costings of proposed work.
Ideally the outcome of this exercise leads to selection of the best contractor and a very good second contractor who can be a back-up and take on other projects.
Required documentation
CDA
Some contractors require a one-way agreement and others a two-way agreement. It is often quicker to agree to use the contractor's standard CDA with perhaps one or two changes that will meet the company's specific needs.
Technical/quality agreement
Be warned: getting this finalised and signed by both parties may take much longer than originally anticipated. The level of complexity of the document is dependent on where the company is in terms of the development or commercial phase of the project. In reality multinational companies require a more detailed agreement covering every possible eventuality.
Sensible companies aim to keep the length of the agreement to a minimum and to use a tabulated format with a column detailing each aspect/task of the agreement with additional columns for each party to indicate who is responsible for each aspect/task listed. For one or two aspects/tasks it is likely that both parties have a responsibility.
Lists of contacts (individuals or in bigger companies, departments)
In reality, if you have selected the correct outsource company and you are a good customer this agreement will probably not be needed. There is no need to refer to the majority of the document unless things go wrong.
Managing outsource companies
Most companies tend to use a project manager to manage their chosen contractor. For the most effective management of the contractor and contract, the nominee should have a really good understanding of analysis and microbiology. If this is not the case, there is a real danger of the work turning out to be more expensive, not scientifically sound, not acceptable in the longer term by regulatory authorities and lengthy to complete. It is important to remember that one week's unnecessary delay to a project will result in one week's delay in getting the final product to market which equates to a one week delay in the product making money.
If nobody in the company is suitably experienced and qualified to take on this role, the solution is to use a consultant with expertise in this area who has successfully carried out this role many times.
Working with a partner can be a serious challenge! It's advisable to establish a good rapport, have regular meetings, including technical staff in such meetings, and make regular site visits. Trying to meet up now and again with the actual staff undertaking the practical work and taking time to be friendly and talk to them, remembering to thank them for all their hard work, are also things to remember.
Other advice is to pay invoices on time, keep on top of the paperwork and keep the doors of communication open so that either party tells each other if they are unhappy. Using more than one contractor is also advisable.
Potential issues that must be considered
When companies use contractors, they do expect things to go wrong and for problems to arise from time to time. However there are other issues that most companies do not think about until they do actually occur. These include:
Contractor moving to new facility
Even if the move is only over a short distance, equipment has to be relocated and requalified, contractors may decide to purchase new equipment which needs to be installed and qualified, with standard operating procedures produced and laboratory staff trained. If during the selection process a contractor tells you they are moving or subsequently they decide to move, it is very sensible to ask for a copy of their detailed plan for achieving this, ask any pertinent questions and seek assurances that it will not affect the work being undertaken. One must feel reassured. If the contractor is mentioned on any Marketing Licence Authorisation (MLA) there is a need to initiate the process for informing the Agency and updating the MLA.
Interaction of Contractors
It may be that you have two contractors, where there is possibly the chance of some direct interaction with regards to your company's project. Even if your company has an excellent interaction with them individually and you allow them to interact directly, there is the possibility of things going wrong, so do not withdraw and leave them to it.
Merger and Acquisitions
In this day and age there are many mergers and acquisitions. If a contractor is involved in this process, their staff may be unhappy and there are always worries at this time, so it is very likely that your contractor's time lines may lengthen and you may well have to cope with a situation where they are merging or being acquired by a similar contractor who was on your long list of 'possibles' but who was eliminated for good reason!
If an M&A happens to your own company, this can cause difficulties. For a start the company name could change which means there are many types of documents where the name needs to change. One example of where this can cause confusion is when samples and paperwork arrive at your contractor and the new company name isn't recognised. You need to tell them as soon as possible after the company name changes.
In times of rumours, speculation, facts about acquisition, rationalisation, consolidation, downsizing, globalisation etc. there is much concern, fear and worry. The key to preventing slippage during these times is remaining totally focussed.
Conclusions
Outsourcing in the analytical and microbiology area can be quite a challenging exercise, with many potential pitfalls firstly in identifying, evaluating and selecting the right contractor and secondly in managing them. It is likely that some issues will arise. Prepare for the fact that certain of these issues that occur may be totally unexpected.
In those situations where the company does not have personnel with the required expertise and experience it is important that the company uses a consultant with the expertise and who has successfully carried out this role many times. Risk assessment and mitigation is a tool that should be employed to reduce high risks to an acceptable level of risk. Build a good relationship with your contractor and remember you are on the same side: both of you want the project to be on time, on budget and successful. Good two way communication and a focused mind are key.
Biography
Roger Stroud is a director at R Stroud Pharmaceutical Quality Solutions Ltd and has worked in the pharmaceutical industry since 1970. During this time he has worked for virtual companies, small companies and large multinationals before setting up his own consultancy.
An analyst by training, he has for many years been involved with all aspects of outsourcing including identifying, evaluating, selecting, risk assessment and litigation and managing contractors in a wide range of pharmaceutical disciplines. He has also run training courses within companies on a wide range of aspects of outsourcing and spoken on the subject at conferences. He has carried out many audits in a large number of countries. In addition he spends much time undertaking work in the area of quality including preparing companies for inspection by regulatory authorities including the US FDA and a number of European agencies.