Fast quantitative 2D NMR for quantifying analytes in complex mixtures
Nuclear magnetic resonance (NMR) spectrometry is a major quantitative tool in pharmaceutical analysis, owing to its extremely high accuracy. However, absolute quantification in complex mixtures is often hampered by spectral overlap which considerably reduces the quantitative performance of NMR.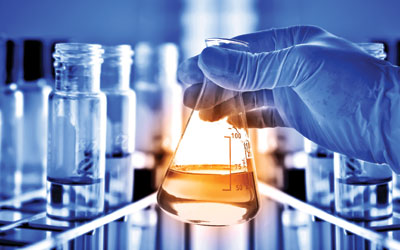 Fortunately, new quantitative approaches based on two-dimensional (2D) spectroscopy have recently been proposed, and they are capable of determining simultaneously the concentration of multiple analytes in mixtures with an excellent trueness and precision. The development of fast acquisition strategies has considerably improved the applicability of these methods, which are particularly appealing for the study of biological mixtures, with promising applications in metabolomics and pharmaceutical studies.
As a widely-used analytical technique, NMR can be employed in a variety of experiments (liquid and solid state spectroscopy, relaxometry, imaging etc.) with applications in a large range of domains, from physics and chemistry to biology and medicine. While NMR is widely known for its potential to provide structural information on complex molecular structures, it is also widely recognised for its quantitative capabilities, thanks to its nondestructive and nonspecific character. The quantitative potential of NMR is particularly recognised in pharmaceutical analysis, where it is increasingly used at early drug development stages as a universal detector to determine the concentration of analytes in a variety of samples1. Quantitative NMR is also widely used in the growing field of metabolomics, which aligns very closely with the aims and interests of many researchers in the pharmaceutical industry, with more and more applications in drug discovery and development…